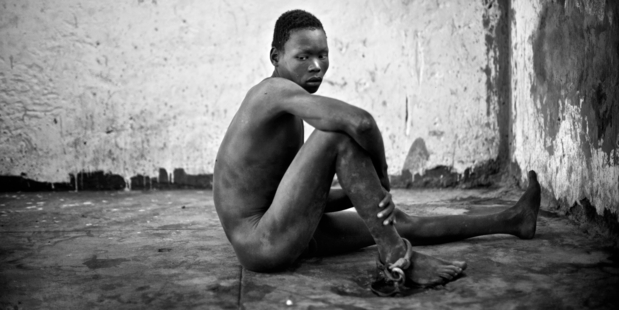 A New Zealand humanitarian photographer has been awarded one of the world's most prestigious prizes for his haunting images of mental health patients in crises-stricken African nations.
Robin Hammond was awarded the W. Eugene Smith Grant in Humanistic Photography for Condemned, a book depicting how people with mental illness are cared for in seven sub-Saharan African nations.
Published this year, the Wellingtonian's work portrays barbaric treatment of the mentally disabled: Men and women shackled naked in a Sudanese prison, a 14-year-old Ugandan boy left tied by one leg to a post, and young and emaciated children with physical deformities crowded into small pens.
Hammond, who is based in France between his travels to Africa, told the Herald how the $35,000 prize held a special meaning for him.
"This is one of the most prestigious awards in the world of photojournalism and for me it is quite a shock to have my name next to some of the past recipients who have been some of the people I have really looked up to in my career," he said.
"It is also really significant for me because of the man whom the award remembers. W. Eugene Smith was a campaigning humanitarian photographer, just as I hope to be, and the work he did stands as some of the greatest photojournalism in the last century.
"It was his work when I was studying at Wellington Polytechnic that made me want to do photodocumentaries on human rights issues."
In his 13-year career, Hammond's work has been widely published, he has won four Amnesty International awards for Human Rights journalism, the 2011 Carmignac Photojournalism Award and this year's FotoEvidence book award that allowed the publication of Condemned.
That work began in 2011 when he travelled to war-ravaged areas of Congo, South Sudan, Mogadishu and Uganda; refugee camps in Somalia and Dadaab; and Nigerian facilities for the mentally ill impacted by corruption. "The extent of the abuse and how widespread it is is just so big and I feel it is a really neglected issue. It goes past just taking pictures. The whole point is to really raise awareness for a group of people who have been severely neglected."
Hammond plans to use the prize money to continue documenting the plight of people with mental illness, and will return to Africa next week.