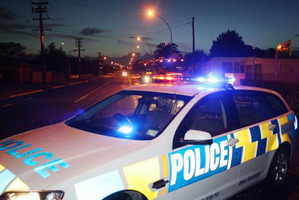 A man accused of abducting an 11-year-old hours after allegedly sexually assaulting a teenager was caught when he crashed a car in a police chase this morning.
Police are interviewing an 18-year-old in relation to both sexual assaults, which took place in Christchurch and North Canterbury this morning.
The first assault happened in a car near Pound Rd, at the rear of Christchurch Airport, around midnight.
Police believe the victim was known to the offender.
The car, a white 1990 Nissan Primera saloon, was recovered by police shortly after the incident.
The second assault allegedly took place after an 11-year-old girl was allegedly abducted from a park in Loburn, North Canterbury, about 9.30am.
She was later found by members of the public on a rural road.
Police found the vehicle believed to be used in the abduction in Loburn about 11am.
After giving chase, the blue 1999 Subaru Legacy saloon collided with a power pole, injuring the sole occupant.
The 18-year-old man suffered moderate injuries and was treated at Christchurch Hospital. He was released into police custody late this afternoon.
Detective Sergeant Jason Stewart said investigators were now speaking to the man in relation to both incidents.
Both victims have received medical treatment and were being supported by family and support services.
- APNZ