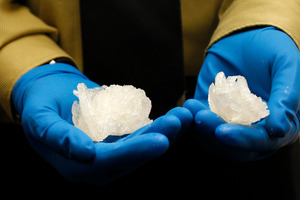 Otago, and much of the South Island, continues to be supplied illicit drugs by North Island dealers, Southern police say.
There have been no clandestine drug laboratories discovered in the Southern police district since 2011, when one was found in Southland.
"At present methamphetamine tends to be coming into Southern and the South Island in general via Auckland-based suppliers," Detective Senior Sergeant Malcolm Inglis, of the Southern organised crime squad, said.
Clandestine labs were typically used to manufacture methamphetamine, also known as P in relation to key ingredient Pseudoephedrine.
The last P lab found by police in Dunedin was in 2009, and it was the only such operation identified in the Southern police district that year.
Since 2004 Southern police have identified 11 clandestine drug labs, nine of which have been in residential properties and two in hotels or motels.
Eight have been in Otago, and four in Dunedin.
Just three were in Southland.
There was a peak in 2007 when four labs were discovered; one in Dunedin, one in Southland and two in rural Otago.
Detective Senior Sergeant Inglis said historically there had been a very low level of clan lab activity in the area.
"Most clan lab activity in New Zealand occurs in the upper North Island."
But it was possible illicit drugs were being manufactured in Otago and Southland, he said.
"While there have been no labs dismantled in Southern in 2012 and 2013, it does not mean they are not operating. For those wanting to manufacture methamphetamine, locations in rural areas reduce the risk of detection," he said.
Between 2000 and 2012, 1809 P labs were discovered throughout New Zealand.
The police districts with the most were - in order - Waitemata, Counties Manukau, Waikato, Auckland, Bay of Plenty and Northland.
Canterbury ranked about midway and the Southern and Tasman districts were at the bottom of the list.
Police said P labs often looked no more sinister than a collection of glassware and containers.
They could be carried in an overnight bag, were very mobile, and had been found in car boots, motel rooms, homes and garages.
Anyone who came across equipment or material they thought might be involved in the manufacture of drugs was urged to contact police immediately without touching any of the equipment.
"Do not touch any part of the lab, do not even turn off or on electricity or water connected to any apparatus and do not turn off any fans. Evacuate the immediate area, as safety is paramount," police said.