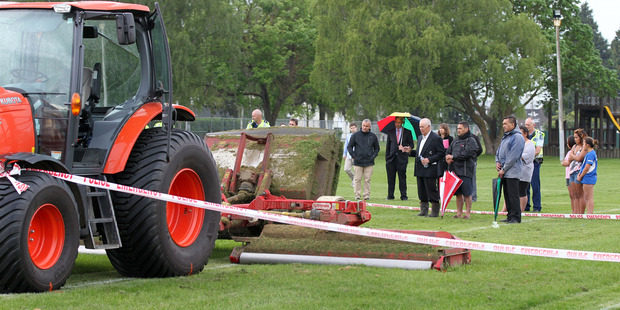 A "terrible accident" that resulted in the death of a 4-year-old boy has left a veteran council tractor driver traumatised and distraught.
The boy was run over by a council tractor-mower at Kirkpatrick Park in Hastings on Tuesday. Police said the boy was believed to have been at the park with older cousins when he was hit by the machine.
Hastings Mayor Lawrence Yule said the driver and his wife were "distraught" by the boy's death. "He has been a tractor driver with the council for 13 years and is one of our senior drivers. He and the rest of the council staff are just devastated."
Police, council and Ministry of Business, Innovation and Employment investigations are under way to determine the series of events that led to the boy's death.
Sergeant Ray Kirkby said a coroner's inquest would also follow the three investigations.
"We have formulated plans for the inquiry phase of the investigation, which will involve more interviews.
"The investigations will determine the series of events which led up to this terrible accident."
Police said last night that they would not be releasing the name of the 4-year-old boy until all family members had been notified.
Mr Yule said the council had decided to begin its own investigation into the tragedy, which would be conducted by a person independent of the council.
He said police and the council were fully co-operating in their inquiries.
"We will launch our own investigation, principally to look at any procedures that may need to be improved on, so we can prevent anything like this happening again. Often police and government investigations can take some time, so we will carry out our own investigation to determine if we can to anything in the interim."
Mr Yule said he had "no real picture" of how the boy came so close to the tractor-mower or the events leading up to the accident.
He had yesterday met two members of the family and was offering his and the council's support to them.
For more articles from this region, go to Hawkes Bay Today