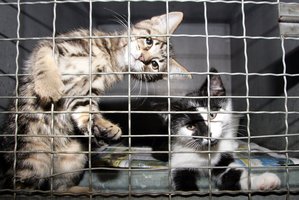 A targeted programme to capture and neuter stray cats before releasing them back onto the streets would reduce the population humanely and effectively, a visiting American animal law expert says.
Speaking at the NZ Companion Animal Council conference in Auckland today, William Gomaa, associate director of law and policy at Alley Cat Allies, outlined how his organisation's trap-neuter-release (TNR) programme has been successful at reducing stray cat populations in Washington DC and other urban areas around the United States.
"Examples from the US show that TNR programmes are more effective at reducing populations than catch-and-kill, especially in urban and suburban environments," he said.
"The idea behind this is not that ground-breaking. If you neuter a cat, that animal can't reproduce, so if you effectively sterilise numerous animals then you can certainly have an impact on population size once those animals die naturally."
However, his comments have been denounced by economist and philanthropist Gareth Morgan, who has been vocal about his opposition to cats in New Zealand and said such programmes do not work.
"You only have to be aware of the reproductive biology of cats to realise that for TNR to actually reduce a population you have to neuter at least 80 per cent of them. And of course have no new ones joining colonies - which happens every summer as owners dump litters," he told APNZ.
"This is not rocket science."
Mr Morgan cited research published in February by science journal Nature that "confirms wandering cats, whether neutered or not, are the major human-introduced killer of wildlife".
"Really the only people who put cats' rights to wander and slaughter above the value of our wildlife are irresponsible cat owners and NZ's SPCA," he said.
"TNR proponents simply don't have accredited science behind them."
Mr Morgan sparked controversy earlier this year with his Cats To Go campaign, which branded the pets "natural born killers", and "a friendly neighbourhood serial killer".
Mr Gomaa advocated the TNR programmes as a humane response to the issue of stray and feral cats, which not only reduces the population, but also stops nuisance mating behaviour which prompts most phonecalls to animal control and complaints by residents, such as cat fights and yowling.
He said concern in New Zealand that cats were destroying the native bird population with their predatory behaviour isn't backed up by studies of urban environments, which show there isn't "that much bird predation by cats".
"So from my point of view, there's really no inconsistency between the desire to protect birds and supporting trap-neuter-return," he said.
While such TNR programmes have the support of most animal rights organisations in the US, People for the Ethical Treatment of Animals (PETA) is against the policy.
PETA Australia campaign manager Claire Fryer said the topic was "difficult and emotional".
"We believe that, although altering feral cats prevents the suffering of future generations, it does little to improve the quality of life of the cats who are left outdoors," she said.
"Allowing feral cats to continue their daily struggle for survival in hostile environments is not usually a humane option."
She said PETA would "never encourage people to let their own cats outdoors to roam free" and are therefore against leaving stray cats outside to fend for themselves.
- APNZ