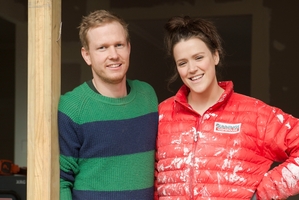 A chip off The Block will be up for grabs after the TV3 show's four renovated homes have been sold.
A 451sq m section, used for a site office and supplies shed for the programme, will be auctioned.
The North Shore land is elevated and has garage access from the same driveway as the other houses.
The show challenges four couples to renovate a run-down house each, room by room, week by week.
In the final episode, the houses - on the corner of Lake and Eversleigh Rds in Belmont - will be auctioned.
Greg Heathcote, head of The Block's maker, Eyeworks, said dividing the land into five rather than four lots was cost-effective and suited the shape of the site.
Restrictions would ensure that the house built on the fifth site was in keeping with the other four.
"Draft plans for the fifth house have already been drawn up so that potential buyers can see that it complements the rest of the mews and ensures all the properties have maximum sunlight and privacy," Heathcote said.
Plans lodged with Auckland Council show the fifth house will be close to the boundary of house two - renovated by couple Alisa Keall-Grant and Koan Vette.
Open homes for The Block houses are scheduled for October 19 and 20. The ones for last season's show drew more than 5,000 each day. Heathcote said viewer numbers for this series were even higher.

• The Block, Mon-Wed, 7.30pm on TV3.