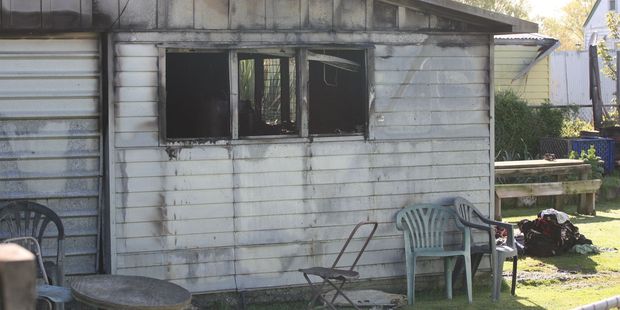 Family, neighbours and firefighters fought in vain to save the life of a Masterton man they dragged near death from a blaze that gutted his sleepout late last night.
Cameron Cres resident Paikea Te Whare, who lives next door to the home of Archie Aihe Huirama Ormsby junior, said his barking dogs had woken him just before 11pm.
He went outside and saw thick smoke billowing from the garage that Mr Ormsby, 44, had long used as a sleepout, and had told his mother to call emergency services before vaulting the fence between their properties.
Archie Ormsby senior was wrestling with the metal door to the sleepout and calling out to his son, Mr Te Whare said.
"I saw old Archie trying to open the door. He was shouting hard and crying because the door just wouldn't open. I couldn't hear Archie inside and when I kicked the door in, he was right there," Mr Te Whare said.
"They dragged him out but there was nothing else we could do. We were all in shock."
Another neighbour and a younger brother of Mr Ormsby junior also joined in the rescue and despite the immediate resuscitation attempts of firefighters, Mr Ormsby died at the scene.
Mr Te Whare said his late neighbour had been "a good man, a good fullah" who had been quiet and kept to himself.
Masterton Fire Service station officer Garry Nielsen said firefighters had been unsuccessful in their attempts to revive Mr Ormsby, who neighbours and family had rescued in the face of mounting danger.
He said Mr Ormsby senior had burned his hands in the rescue attempt and received initial treatment at the scene before being taken to Wairarapa Hospital. He was discharged soon afterward, a hospital spokeswoman said.
Firefighters also treated for smoke inhalation the pair of neighbours who had helped in the rescue, Mr Nielsen said.
The death of Mr Ormsby highlighted the need for smoke detection alarms in sleep-outs and other similar accommodation arrangements that are becoming more widely used throughout New Zealand, Mr Nielsen said.
"Accommodation is getting more expensive - here and across the country - and whether it's a bach or cabin or a sleep-out, smoke detection alarms are vital."
A security guard was posted overnight outside the scene and the family held a blessing ceremony at the house this morning. Police and the fire service have launched a fire investigation to establish the cause of the blaze.
For more articles from this region, go to Wairarapa Times-Age