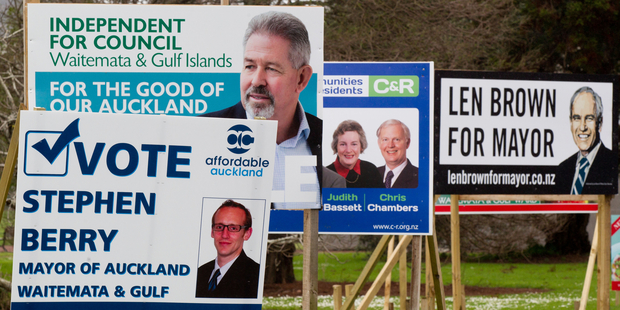 We asked the 15 mayoral candidates to answer these questions in their own words:
1. Who are you?
2. Why are you standing?
3. What would you do if you were mayor?
Here are their answers:
Stephen Berry
I am a 30-year-old retail manager living with my partner of four years in Eden Terrace. I've lived in Auckland my entire life and am passionate about the future of this city. I am standing because I see the current mayor taking Auckland in the wrong direction and believe if we continue on the same path the fundamentals which are causing issues such as high rates and unaffordable housing will not be fixed.
These issues are the result of a council that tries to do too much and I fear an increase in council activity to fix these issues which will just make the problems worse.
If I am elected mayor I will reduce the rates burden, focus on quality spending on the core functions of council, eliminate borrowing, respect private property rights and make housing more affordable through increased zoning flexibility, streamlining the consents process and abolishing the urban limit.
Penny Bright
With more than 15 years' local government experience I am a proven and experienced anti-corruption and anti-privatisation public watchdog. I am no Johnny-come-lately.
I will expose and stop corrupt corporate control by establishing a mayoral commission against corruption, using the mayoral budget and employing forensic investigators to open the books, to find out where every dollar is being spent, invested and borrowed.
Here is my action plan for a genuinely open, transparent and democratically-accountable Auckland/New Zealand.
Who really runs Auckland? Try committeeforauckland.co.nz/membership. How? Through Council Controlled Organisations (CCOs), where unelected businesspeople run the Auckland region like a business, by business, for business. CCOs must go - return core services back to direct council control.
Cut out the consultants and private contractors. Bring back the in-house public service model. Public monies should benefit the public majority. Rates, housing, transport and water services must be cost-effective and affordable. We need a nationally co-ordinated population, migration and employment strategy.
Market-led Auckland growth, pushing rezoning and housing intensification, is decimating communities against their wishes. Who benefits? Property developers, speculators and overseas investors.
Following the precautionary principle and wellness model will achieve a genuinely clean, green New Zealand. Penny Bright for Mayor!
Jesse Butler
I was born in Papeete. I am an Aucklander. I am 45 years old. I was raised in South Auckland. I now reside in Browns Bay. I am a father, husband and grandfather. I have a masters degree in political studies; University of Auckland. I have worked in South Korea. I have been unemployed for a long time in a city of wealth.
I am standing because the Auckland Council needs a new mayor with a strategy to manage the Auckland Plan in a new way that financially advantages the wallets and futures of Aucklanders.
The current model applied by the Auckland Council is a rehash of the doomed 1984 economic policies. I have a more accurate model.
My governance and economic models will deliver on the public aspirations to have a safe and prosperous Auckland Super City; making the Auckland Plan work in Aucklanders' favour.
As mayor, the focus of the new Auckland Council will be twofold: Providing cheap, high-quality public services and the active generation of wealth in the private sector. The council financial books will be opened to the media. Auckland Council staff are my priority but the hostile attitude towards Aucklanders will cease immediately.
Tricia Cheel
I was born in Onehunga but grew up on a dairy farm in Dargaville. I have lived in Browns Bay since 1977.
I have always been very involved in health, environment and community issues at local, regional, national and international levels to try to keep New Zealand the most wonderful place there is to live.
As mayor: It would not be big business first second and third as usual because the true success of any society is measured not by the number of millionaires but by the happiness of its poorest citizens.
Infrastructure - water, roads etc - should serve the community including local businesses and not be a burden on ratepayers by allowing corporates to make huge profits while the ratepayers foot the bill to allow for their activities.
Children and poverty, families and community, pollution and the environment must all be first equal because children will never reach their full potential in an impoverished and polluted environment with all the problems poverty can bring.
I don't have any political or commercial ties that could compromise my pledge that I will not rest until every child in Auckland is warm and well fed and can sleep in a safe and secure home ... and pensioner housing is secure.
Stop fluoridation. Stop $5 million-plus rates being spent on Roundup and other nasty poisons. Restore the voice of the people with binding referenda which would ensure rates were kept to an affordable level. Suspend the Unitary Plan - this is "trickle-down democracy" that has trampled over communities. Such plans need to grow from the ground up!
Paul Duffy
I'm a 42 year old Aucklander with an extensive 20-year financial career in Auckland and Europe, working with both multinational financial institutions and schools and communities.
I'm running for mayor because Auckland is on a path to bankruptcy by 2020, and I simply can't stand by and watch this happen.
Auckland Council wants to spend $20 billion over the next 10 years - about half on transport - with the majority of this on roads. We simply can't afford this.
My answer is to implement an affordable smarter transport network centred on public transport and commuting, with far less money spent on roads. There are fellow passionate Aucklanders out there developing innovative ideas which could be Auckland's transport solution. I want to involve young Aucklanders - they are Auckland's future!
Vote for me and let me sort Auckland's finances. I'll implement an affordable transport network - and I'll protect Auckland's future for our younger generations.
Emmett Hussey
I am an ordinary New Zealander; 67 years old, semi-retired, and a self-employed handyman.
I have never been politically active, nor had the desire to be.
I am standing for the mayoralty out of pure anger at the way we Aucklanders are being disenfranchised. We vote someone into council and expect them to have our best
interests at heart, and then they do things we never gave them any mandate to implement, and they have the gall to tell us it's going to happen anyway, while riding roughshod over the community that elected them.
The proposed Auckland Unitary Plan will have the biggest effect on Auckland in its history, yet the people of Auckland were never properly consulted, nor had an adequate say in its formation, nor can they gain proper access to the finer points of the plan.
I will bring democracy back to Auckland Council and stop decisions being made behind closed doors. I will have binding referenda on all important decisions affecting Aucklanders, such as the Unitary Plan. I will put other alternatives on the table such as satellite cities with rapid rail, rather than just having to blindly accept being packed into Auckland like sardines.
Susanna Kruger
I am originally from Namibia where I worked as a government consultant during a time of major political renewal and public service reform.
Having held sole citizenship of New Zealand for nine years I am an entrepreneur and married to a Kiwi bloke, with our five children between the ages of 16 to 22. I am setting up a private global online entrepreneur university opening in July next year, aiming to reverse social welfare dependency by focusing on our youth.
I have entered the race to become your next mayor so that I will be able to lead our city away from crisis management to strategic leadership.
Having the support from the people will help me rescue our city from bankruptcy.
I will introduce a diversity plan to incorporate the best of all people irrespective of status, race, religion, gender and age. These will enable me to make Auckland the number one city in the world turning it into the small entrepreneur capital of the world.
John Minto
I live in Morningside and I have two adult boys. I've been here for 36 years as a physics and science teacher as well as being active in campaigns for quality public education and against human rights abuses in places such as South Africa and Palestine.
I'm standing as the Mana Movement candidate for mayor because Auckland is the most unequal city in New Zealand with awful traffic, unaffordable housing, unliveable wages and expensive rates.
Firstly I'm campaigning for free public transport. This will gridlock free the roads within 12 months, give a $1.25 billion annual boost to the economy and save billions of dollars budgeted for new roads we won't need.
This is the greenest policy Auckland could adopt - following the lead of cities overseas.
Secondly we will build 20,000 affordable council rental homes.
Thirdly we will pay a minimum living wage ($18.40) for everyone doing council work and fund this with cuts to senior council salaries which are out of control. We will set a maximum salary at five times the living wage ($191,000).
Fourthly we will work for income-related rates which means everyone pays the same proportion of their income on rates and council charges.
Reuben Shadbolt
My vision is for council to initiate community-based centres for art, science and green technology to give people, especially youth, a place to safely express themselves and be part of sustainable living wage job creation as central government is failing our city terribly.
Our youth are being targeted by corrupt corporate sponsorship that profits from the poisoning of people and planet without giving hope to our future.
If I am elected I will act more like a sheriff than an accountant and chase the corruption out of town, because innocent, good, honest, hard-working Aucklanders deserve to be safe in our city.
Central government is not future-proofing for our city and I am serious about protecting innocent people and planet. If elected I will stop the City of Sails from becoming the city that fails its citizens on social and environmental justice. I will protect you Auckland.
My vision for a clean, green, innovative Auckland is more practical than spiritual.
My message for all those who pray for a better future, you need to do more than pray, you need to support social and environmental justice starting with a living wage so that honest people get a decent week's pay.
Uesifili Unasa
I grew up in West Auckland, attended Kelston Boys High School before studying political studies and history at the University of Auckland and theology at the University of Otago.
My current position is Maclaurin Chaplain to the University of Auckland. I am also an ordained minister of the Methodist Church of New Zealand; a board member of WaterSafety Auckland and the Problem Gambling Foundation; and the chairman of the Pacific Peoples Advisory Panel, Auckland Council.
I am standing to provide a focus on investing in people and communities as the basis for a prosperous, safe and transformational city.
If I were mayor I would ensure that the mayor's office, council management and Council Controlled Organisations reflect the cultural diversity of Auckland City; implement a Living Wage Council; resource and strengthen governance roles of community local boards.
Annalucia Vermunt
I am a postal worker, union member, and a member of the Communist League. I support struggles for workers' rights, and campaign for Maori and women's equality, and in defence of the Cuban Revolution.
I am standing because working people face grinding attacks on our jobs, wages, living conditions, and democratic rights.
These attacks are a product of capitalism's global economic crisis.
The capitalist rulers and their parties try to make us bear the burden of their crisis.
The Communist League believes working people need to wage a struggle to take political power into our own hands so we can put an end to capitalist rule and reorganise society to benefit the vast majority.
I am standing to present demands around which we can fight to strengthen and unify the working class today in face of the capitalist crisis.
If I were mayor I would help to organise a fight for jobs around a massive government-funded public works programme to build houses, schools, hospitals, public transport, and other amenities working people need.
This must be combined with a big increase in the minimum wage.
I will support workers using their unions to fight attacks by the employers and government.
David Willmott
I am a well qualified, experienced engineer, planner and manager. I have a history of extensive professional/public service.
I am competent, able, keen to facilitate a facilitative, go-ahead city which sets minimum (not glass-ceiling) standards for affordable development, reducing disincentives and unaffordabilities so that youngsters stay, pitch in and prosper.
Why am I standing? After 1984 effective bankruptcy, the Resource Management Act replaced town planning to (better) "enable"development that real people really want and need, thus investment, jobs, prosperity.
Yet "sustainable management" today translates as high-cost elitist stop-the-worldism, force-feeding transit and downtown, compounding resource consumption, driving land and housing unaffordabilities and concreting suburban "nature" to preserve hobby farmlets. Bankruptcy beckons again.
What would I do if I were mayor? I would enable people and communities/companies to live according to personal values and affordabilities, not those of a global symbiosis of Enviro-NGOs and "designer city" town planners using enviro-alarmism to maximise authority. Replace costly "world's best" barriers with affordable "bottom lines".
Independent commissions would establish Unitary Plan facts (costs, unanticipated detrimental effects). Enviro-NGOs and planners each have useful contributions to make, but separately as advisers/facilitators, not "integrated" as command-controllers.
To balance enviro-planner idealism, half planning dollars would buy fact-oriented pragmatists, promoting open debate of options. Councillors would make value-judgments, not just accept unaffordable aesthetic ideals.
Matthew Goode
Declined to participate
Phil O'Connor
Could not be contacted
Wayne Young
Could not be contacted