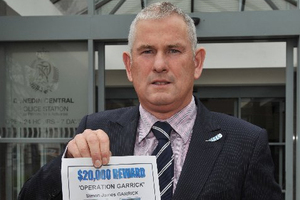 The $20,000 offered for information on the whereabouts of Simon Garrick is the 12th reward offered by police for a murder inquiry in the past decade.
Information released to the Otago Daily Times under the Official Information Act shows half of those cases have been solved - with rewards offered between $20,000-$50,000.
Last week Southern District Police posted a $20,000 reward in the hope of finding Mr Garrick, 42, with the Central Otago man last seen in Dunedin on October 30, 2012.
Operation Garrick investigation spokesman Detective Sergeant Derek Shaw, of Alexandra, said he hoped the $20,000 reward would prompt someone to come forward with information to assist in what police are treating as a homicide inquiry.
Detective Superintendent Rod Drew, the National Crime Investigations national manager, said rewards were paid out once all information was checked thoroughly and "the case has been through the courts and concluded".
"Therefore the number of people providing information who are after money is limited."
All reward money came from the operating budget of the police district offering the reward, with the Police Commissioner having the final approval following recommendations from the District Commander.
Dept Supt Drew said there was "no cap for rewards", but declined to disclose exactly how much had been paid to informants.
"Police are not prepared to disclose details of any payments as police consider it would be likely to prevent members of the public coming forward in the future."
However police could release those cases where rewards had been used in six solved cases.
Those were:
* Sara Louise Neithe was murdered on March 30, 2003. A $20,000 reward was offered for information or evidence leading to either her location or the conviction of a person responsible for her death, or the location of her Honda Civic Car.
The reward was later increased to $50,000
*Nicholas Pike was last seen alive on March 15, 2002 in Mt Maunganui. $50,000 reward issued on July 1 2007.
*Ngatai (Mellory) Dallington, was last seen alive in Christchurch on December 18, 2008, and a $50,000 reward was offered.
*Grant Trevor Adams was last seen alive in Tauranga in November 2005, and a $50,000 reward was offered.
*Darrel James Crawford, last seen alive in Tauranga in August 2007, and a $50,000 reward was offered.
*William Taikato, last seen alive in the Tauranga on December 19 2007, and a $50,000 reward was offered.
The five cases still outstanding include the murder of Jane Furlong, whose body was found on a Port Waikato beach on May 19, 2012, and Jordanis Voudouris who was shot in Paeroa on June 18, 2012.