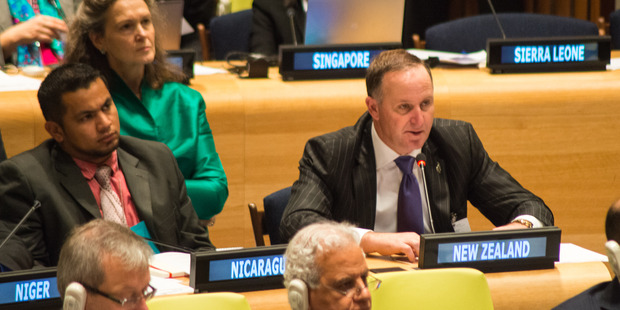 Prime Minister John Key has taken a sarcastic poke at the excuses used by nuclear countries for moving slowly on disarmament, saying that disarmament would not be as costly and complex a process as the making the nuclear weapons in the first place.
Mr Key will give his leaders' address to the United Nations later this morning, but he also spoke at a high-level meeting on nuclear disarmament at the UN General Assembly this morning.
He used his short speaking slot to criticise the progress towards nuclear disarmament and dismiss the reasons given for that slow progress.
"New Zealanders are often told that getting rid of nuclear weapons is a complex, and expensive business. Perhaps almost as complicated and costly as making them in the first [place]."
He said New Zealand's call for change "was not a radical one".
"We do not expect to see the elimination and dismantlement of nuclear arsenals overnight. Having said that, it's hard to see why after almost half a century of the Nuclear Non-Proliferation Treaty, there has not been better progress on achieving the promise of a nuclear-free weapons world."
It is the first time a high level meeting has been held on the topic at the UN General Assembly, and Mr Key welcomed that.
"The meeting today also underlines our determination to move ahead and push past the uneasy reliance on the status quo.
"We can focus on interim goals, such as lowering the operational readiness of nuclear weapons systems, but we should also keep our eyes on long-term goals, such as legal frameworks for abolishing these weapons."
He said that New Zealand had worked toward disarmament for a long time, and he welcomed the recent impetus given to the topic, such the international Conference in March on the Humanitarian Impact of Nuclear Weapons in Norway, which was to be followed up by a further conference in Mexico next February.
The nuclear programmes of countries such as Iran and North Korea have been one of the recurring themes of the General Assembly this week - US President Barack Obama used his address to call for Iran to resume negotiations on its nuclear programme.
Hopes of the first face to face encounter between a US President and Iranian President in 35 years were dashed after even a handshake in passing proved "too complicated".
Iranian President Hasan Rouhani told CBS that he was open to resuming talks about how disarmament would take place, but not if Iran was to be pressured into taking actions that other nuclear countries did not face.
"But in any case, we don't want Iran to be an exception. We do not want discrimination against Iran. We want Iran to be seen just like the rest of all other countries that have nuclear programs as well as enrichment programs."
Mr Key was invited to be part of President Obama's Nuclear Security Summit meetings in 2012 and 2013 because of New Zealand's nuclear-free credentials. The summit focussed on the narrow area of storing nuclear materials safely, rather than disarmament.