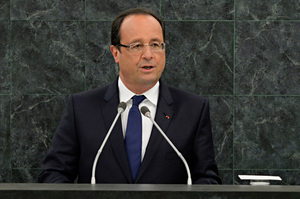 Plans are under way for President Francois Hollande to make a landmark first visit to New Zealand by a French head of state, an event aimed at strengthening ties between two countries with wide but convergent interests in the South Pacific.
The visit, say sources in Paris, would take place in November 2014.
Hollande is scheduled to attend the G-20 summit in Queensland and talks are in the preliminary stages for him to travel on to New Zealand for a brief stop.
The visit would be the first by a serving French leader, either as head of state or head of government, and would mark a significant deepening of France's relationship with New Zealand.
It would also show the increased importance France attaches to the South Pacific where it has commercial, security and territorial interests and is worried about instability.
Its two big territories, French Polynesia and New Caledonia, are facing demands for independence.
Prime Minister John Key discussed the proposed visit during his meeting with Hollande on Monday in Paris.
A French diplomatic source confirmed the exchange, adding that the President reacted positively to the idea and suggested combining it with the G-20 summit.
"Previous Presidents were more concerned about European affairs and the Cold War, and the South Pacific seemed far away," a French Foreign Ministry source said.
"This visit would show France moving towards a region where it needs to show itself more strongly."
France has tended to concentrate on emerging economic powers such as China, Brazil and India as well as Europe. "This visit would show how the world has become more multi-polar," the source said.
Hollande's planned visit would coincide with commemorations marking the start of World War I, which claimed the lives of 18,500 New Zealanders, many of whom fell in the Battle of the Somme north of Paris and at Passchendaele in neighbouring Belgium.
The French President's office had not responded to requests for an official statement at the time of going to print.
The French Foreign Ministry is eager for the visit to go ahead while New Zealand officials are keen to stress that given the twists and turns of diplomacy top-level visits can never be confirmed until close to the date.
From New Zealand's point of view, a visit would help to turn the page on the grim episode of the Rainbow Warrior and nuclear tests in the South Pacific, which poisoned relations for years.


Nation with economic clout would be valuable ally
France, the world's fifth-largest economy and the second-largest market in the European Union, is potentially a valuable economic ally for New Zealand.
As a founder member of the now 28-nation bloc, France has exceptional clout. In Paris this week Prime Minister John Key pressed France for its support to kick-start talks on free trade between the EU and New Zealand, an issue that has been mired for several years.
Bilateral trade for 2012 amounted to nearly $1.3 billion, according to government figures. Exports to France were $371 million and were mainly agricultural products and medical equipment, while France sold New Zealand $918 million of goods, primarily military aircraft, machinery and wine.
The French company Morpho has supplied Auckland Airport with the SmartGate border control system that uses facial recognition technology. France has contributed to the rebuilding of Christchurch; last April it reopened the La Maison de l'Alliance Francaise cultural centre in the city. In 2012 France signed into law a bill allowing for the handing back of 19 Toi moko.
New Zealand is most visible to the French public as a magnet for tourism, helped by the spinoff effect of The Lord of the Rings, and a common passion for rugby.