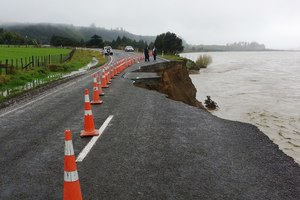 Send your weather-related stories, photos or video here.
The extent of the damage caused by last night's storm across the upper North Island was revealed today as the bad weather headed south.
Auckland's waterfront venue, the Cloud, was among the casualties of the strong winds which also brought down trees and powerlines yesterday, sporting a rip in its plastic covering.
The 180m long structure, which was erected for the 2011 Rugby World Cup as an events centre, was designed to have a lifespan of 20 years. However, workers were kept busy today tying the plastic structure in place to prevent the rip from growing any bigger.
It has now been weighted down with large concrete blocks.
Waterfront Auckland spokesman Luke Henshall said hole has been contained for now but they would have to wait for the weather to clear before it could be repaired.
Meanwhile, electricity was restored to almost all 6600 homes in the Auckland area which lost power due to the windy weather, Vector said.
The lines company said its crews had worked through the day to reconnect customers but around 170 in Swanson were still without electricity this evening.
The company said with further blustery weather forecast for tomorrow, customers should be prepared for further possible outages, and urged people to report any downed power lines.
At least nine domestic regional flights into and out of Auckland Airport were cancelled this morning. A similar number had been delayed.
A number of flights have also been cancelled this evening.
The storm continued to unleash its heavy rain and strong winds across the country today as it moved south today.
Nine houses were evacuated because of a slip in Picton today, and part of State Highway 35 north of Gisborne was partially washed away.
Widespread surface flooding and damage to roads was reported across the North Island, as the low pressure system remained over the island.
Wellington got gales this afternoon and parts of Marlborough and the Kaikoura Coast received some heavy rain.
The low is likely to dominate until it moves away to the east of the country tomorrow, the MetService warned.
MetService meteorologist Dan Corbett Corbett said there would be only a brief respite between this period of stormy weather and the next.
"Another deep low is expected to be approaching the South Island on Friday," he said.
Unlike the current system, the next would pass fairly quickly across the country on Saturday, he said.
View our photo gallery here: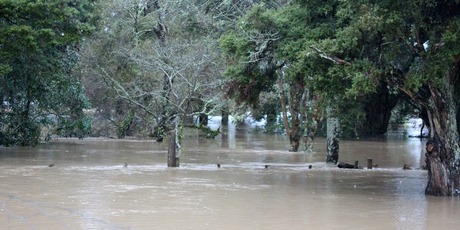 Send your weather-related stories, photos or video here.