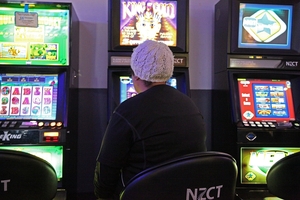 Gaming trusts would be forced to return more pokie machine profits to sports teams and community groups under proposed gambling reforms, and could also have to return up to 80 per cent of the proceeds to the community in which they were lost.
The review of Class 4 gambling, or gaming machines, aims to make the sector more transparent and fair, and would build on harm reduction changes introduced in a bill sponsored by Maori Party co-leader Te Ururoa Flavell.
At present, organisations that distribute pokie proceeds must give 37 per cent back to community groups, which applied for around $250 million in grants a year.
Internal Affairs Minister Chris Tremain said he wanted the minimum amount trusts gave away to increase. Many of the big trusts - such as Lion Foundation and New Zealand Community Trust - already gave more than 40 per cent, he said.
"If a society that is turning over that many millions can pay that sort of level, why can't the other ones? We think we've got to lift the average."
A discussion paper issued by the Internal Affairs Department yesterday proposed an increase in the minimum threshold to between 40 and 43 per cent within four years.
Raising thresholds would put $7 million back into the community for every percentage point increase.
The Class 4 reforms would also consider a proposal raised in Mr Flavell's bill - a restriction on how much money could be redistributed outside of the region in which it was spent. During debate on the bill, some pointed out that wealthy Remuera rugby clubs were funded by pokie losses in Otara.
Mr Flavell's bill sought to ensure 80 per cent of gaming machine profits were returned to the immediate community. This was scrapped after amendments at the select committee stage because of concerns about the policy's effect on the fundraising of national groups such as Surf Life Saving New Zealand or the New Zealand Rugby Union.
But the bill did give Government power to introduce those limits later on. A threshold of between 60 to 80 per cent was being considered.
Asked why limits on where pokie money could be spend were not supported in Mr Flavell's bill, Mr Tremain said that greater consultation with gaming trusts was required and more research was needed to find the right balance.
Pokie proceeds
Now: 37.12% of pokie proceeds must be given to community groups and sports teams
Proposed: More than 40% given to community
Now: Pokie proceeds can be distributed throughout country
Proposed: Up to 80% of proceeds must go back to the community where they were lost