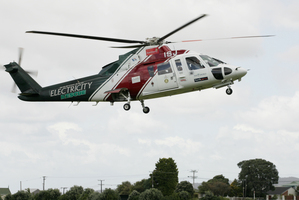 The diabolical weather that lashed northern New Zealand last night forced a rescue helicopter to abandon an operation to winch a badly injured man to safety.
A 35-year-old man was believed to have suffered severe leg and abdominal injuries after he was trapped by a falling tree on a farm in Northland last night.
A fireman was then injured in the rescue operation in Riponui, a small settlement between Whangarei and Kawakawa, which stretched out over a number of hours as worsening weather prevented emergency vehicles and aircraft from reaching him.
An ambulance spokesperson said a helicopter had to turn back to base.
The fireman suffered a broken collarbone during an operation that took place in pitch darkness and on difficult terrain.
Firefighters armed with chainsaws were forced to abandon their vehicles and go by foot and quad bike to reach the trapped man.
It took more than an hour to find him on the Riponui property.
Emergency services were also responding to reports lightning struck a home in Whangarei shortly after midnight.