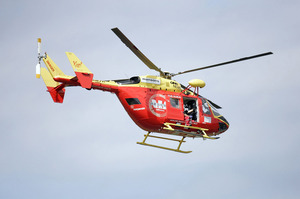 A crash involving a go-kart with a barstool mounted on top has left a man seriously injured.
At around 1.45pm today police were called to reports of a seriously injured man in Puhoi, Northland.
A 62-year-old had left the nearby Puhoi Pub on the recreational vehicle - often described as a motorised bar stool, police said.
He wasn't wearing a helmet and suffered serious head injuries when he fell from the vehicle onto the road.
At the time of the accident the vehicle was being driven on the road and no other vehicles were involved, police said.
The injured man has been taken by Westpac Rescue Chopper to Auckland Hospital in a serious condition. The Waitemata Police Serious Crash Unit is investigating.
"Whether alcohol was involved will be part of our investigation. The vehicle was not road-legal and we've seized it so it can be mechanically examined," said Inspector Mark Fergus, Road Policing Manager, Waitemata Police.
"An investigation is also underway into who actually owns the mechanical bar stool."
- APNZ