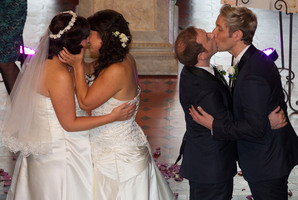 More than 80 same sex couples have tied the knot since the law legalising same sex marriage came into effect a month ago yesterday.
Fifty-eight New Zealand couples and 26 overseas couples have taken their vows in the last four weeks, registrar-general of Births, Deaths and Marriages, Jeff Montgomery said.
"We are seeing continued national and international interest by same sex couples in getting married in New Zealand.''
Births, Deaths and Marriages had issued a number of marriage licences for same sex couples, which were valid for three months, Mr Montgomery said.
"We expect the number of same sex weddings to increase as we move into spring.''
In April Parliament passed the law legalising gay marriage, 77 votes to 44, amid loud shows of jubilation from the floor and the gallery.
The declaration of the vote was followed by a waiata.
MPs held a conscience vote on the private member's bill sponsored by gay Labour MP Louisa Wall.
The bill took effect on August 19, and came 27 years after New Zealand decriminalised homosexuality.
BY THE NUMBERS:
42 female marriages (of these 20 were a change of relationship from civil union):
* Seven couples from Australia
* Two from China
* One from Hong Kong
* One from United Kingdom
40 male marriages (18 a change of relationship from civil union):
* Six couples from Australia
* Four from Thailand
* One from USA
* One from China
* One where only one of the couple was from overseas (Australia)
* One where one person was from the Philippines and the other from the USA
- APNZ