Policewoman overcame fear of heights in lifesaving climb which now features in artwork to help attract recruits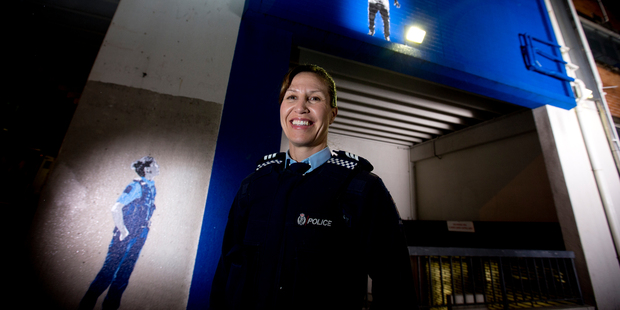 A fear of heights didn't stop a police negotiator climbing atop an overbridge to talk down a suicidal man - in fact it helped her save his life.
And now Sergeant Deanne Teao, a youth aid officer and negotiator, will have her experience immortalised in a piece of art in a bid to attract new police recruits.
Last year, Mrs Teao was called to an emergency at an overbridge on Auckland's Northwestern Motorway. A young man was threatening to jump off the bridge and Mrs Teao's negotiating expertise was needed to try to stop him.
Standing below him, she urged him to think about his family, begging him not to "cut them off" by dying.
"What would your whanau do without you?" she said she asked him.
Through speaking to the man about his family and troubles, she built up a rapport and was able to climb up to him.
But once at the top, she had to admit she was scared of heights.
"Because I had built a rapport I felt safe up there with him. I don't like heights but I had to deal with it. I said to him, 'I'm just being honest, I don't like this, can we please go back down," she said.
"It just made him stop thinking about himself. He became more worried about me."
On the way down, the man told her: "You're a cool cop, Miss."
Mrs Teao's work story is being used to promote a new push for 400 police recruits by next June.
A recreation of the bridge rescue was installed in Hobson St, central Auckland, overnight and will appear in a TV ad for the New Cops campaign. Similar installations depicting other "good work stories" involving police have been done in several other Auckland locations.
As well as being a negotiator, Mrs Teao recently became the supervisor of the Counties Manukau district's Responsiveness to Maori strategy.
She comes from a policing family - her brother is Inspector Damin Ormsby, national field prevention manager for Maori, Pacific and ethnic services. Their father is Sergeant Mike Ormsby, who is in his 47th year of policing and based in Hamilton.
"By doing this campaign I hope to show young Maori that the blue uniform is an opportunity to make a difference in the lives of rangatahi [youth]," Mrs Teao said. "I balance my time as a mother of two and still have strong links to Nga Puhi, Tainui and Ngati Ranginui. I love it. I'm proof that when you become a cop you don't leave your heritage behind, but bring it with you to the job."
As part of their latest recruitment drive police are appealing to young people from a broad range of ethnic backgrounds as well as to women.
Acting Commissioner Viv Rickard said policing was renowned for "better work stories", which was the recruitment campaign's slogan.
Mrs Teao's "true story" showed the heart and mana of police staff, which he hoped to find in recruits.
"By installing this street art, we want to challenge young people's perceptions, that when you become a cop you don't lose who you are, you use who you are to help people."
The man Mrs Teao helped was referred to mental health services and has since recovered. He was very supportive of her sharing the story.
Where to get help
• Suicide Crisis Helpline, 0508 828 865
• Lifeline, 0800 543 354 or (09) 5222 999 within Auckland
• Depression Helpline (8am to 12 midnight), 0800 111 757
• Youthline, 0800 376 633, free text 234