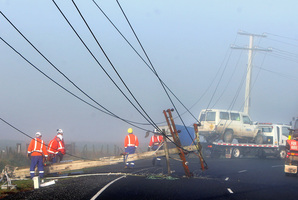 Around 2000 Canterbury households are starting a sixth day without power this morning after last week's storm.
Lines company Orion said this morning that 1000 customers had power restored yesterday, bringing the number yet to be reconnected to below 2000.
Most without power are in the rural community west of Christchurch, said Orion chief executive Rob Jamieson.
Gale winds on Tuesday night last week originally knocked out power to 28,000 customers.
"We hope to restore electricity to the majority of remaining customers without power today, with the residual customers having their power restored tomorrow,'' Mr Jamieson said.
"Many of the repairs only affect a few customers but still take many hours to complete.''
Contractors from throughout the South Island and Wellington had been helping with repairs.
"The patience and support of those without power is also much appreciated during what must have been a tough week,'' Mr Jamieson said.
Residents using generators were asked to have them installed by registered electricians to ensure the safety of the linesmen repairing the network.
- APNZ