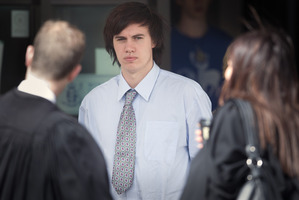 Former Rotorua teenager Tristan Barker's application to have an assault conviction discharged was rejected when he appeared in the Rotorua District Court this morning.
Barker, 18, appeared before Judge Maree Mackenzie in the Rotorua District Court today for sentencing for an assault on Australia's Seven Network's Today Tonight reporter Dave Eccleston in Rotorua in March.
The teenager, who has been labelled an "internet troll", was represented by Bill Lawson, who said earlier Barker wanted to avoid an assault conviction as it could jeopardise his future.
However, the appeal was rejected and Barker was instead convicted and ordered to pay $500 for emotional harm and reparation.
Barker, who is now living in Melbourne, is the son of former Split Enz drummer Michael Barker, who lives in Rotorua.
For more articles from this region, go to Rotorua Daily Post