Mother tells of relief at hearing daughter survived, and school expects teenagers to be back riding 'ASAP'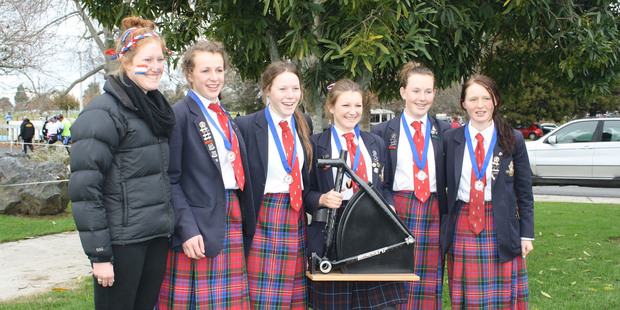 Coach Pip Sutton with schoolgirl cyclists Loran Mathis, Brigitte Allan, Madison Farrant, Maggie Allan and Maxyna Cottam.
Fifteen-year-old Brigitte Allan watched helplessly as her older sister and fellow cyclist Maggie collided with a van during a training ride, followed by four of their friends.
The group of five top schoolgirl cyclists and their coach hit the van near Taupiri, north of Hamilton on Tuesday afternoon.
But despite their injuries, the girls are keen to get back on their bikes, says a spokeswoman for their school.
Maggie, a New Zealand Development Squad member, was the lead rider in the Waikato Diocesan School for Girls senior A cycling group when the crash happened.
The 17-year-old suffered cuts after she and a van collided at the intersection of Lake and Dawson roads.
She was closely followed by Loran Mathis, Maxyna Cottam and Madison Farrant, all 17, and coach Pip Sutton, 21, who hit the side of the van.
Brigitte had dropped back from the pack and witnessed the accident.
Waikato Diocesan School for Girls spokeswoman Debbie Stevens said the girls were physically and emotionally exhausted.
She said the riders were experienced, were wearing high-visibility vests and had been training for the North Island Secondary School Champs in Palmerston North.
"Although it is too early to say if they will all get to nationals, the girls are all passionate about cycling and keen to get back on their bikes ASAP," she said.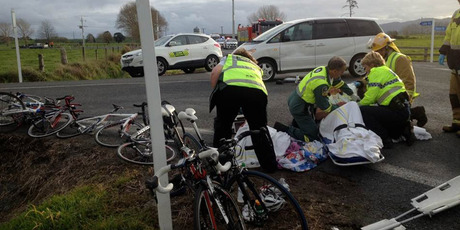 Moments after the crash, another bunch of 15 cyclists from Hamilton's Southwell School arrived at the heap of tangled riders. Parents were among group, including an off-duty police officer who secured the scene, a nurse, and a surgeon who quickly assessed the injured teenagers and called emergency services.
Southwell School principal Royce Helm said the primary-aged cyclists were about 100m behind the group at the time of the crash.
The mother of the Allan sisters said it was a relief to hear her daughter's voice when Brigitte called from the crash site to explain what had happened. Prue Allan, who lives in Rotorua with husband Andy, said Ms Sutton called her and Brigitte was able to tell her mum she and her sister were okay.
"You wait with bated breath. But Brigitte was able to ring me from the roadside. She got on the phone and said they were all talking," Mrs Allan said.
"Andy and I understand these things happen. It is the nature of the sport that the girls are involved in."
Loran could not remember the incident until waking up in the Westpac Waikato Rescue Helicopter.
She and one of the other girls were flown to Waikato Hospital with serious injuries while the rest were taken by ambulance.
It's understood at least two of the girls suffered concussions and Ms Sutton broke her wrist.
Yesterday Loran was nursing a black eye and swollen mouth.
The driver of the van was uninjured. Waikato District road policing manager Inspector Marcus Lynam said it was still too early to say what, if any, charges would be laid.