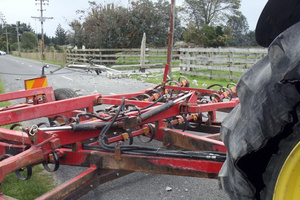 A Candy Contractor cultivator knocked down a concrete power pole, bringing down high-voltage powerlines and cutting power to Wairarapa customers.
Masterton Fire Service senior station officer Paul Thompson said the driver of the John Deere 7530 tractor towing a cultivator behind it hit a concrete power pole on Upper Manaia Rd about 11.30am, bringing down powerlines which were left strewn across rural fences on both sides of the road.
"Farm machinery of some sort - a farm implement has hit the power pole smashing it and bringing down the lines," he said.
Station officer Doug Flowerday said it appeared the wings on the cultivator had dropped without warning which the driver hadn't known about. The cultivator came to rest after ploughing through a fence on the opposite of the road and popping the rear right tyre on the large agricultural tractor.
"The wings have fallen down without [the driver] knowing, spun around and hit the tyre ... some system has failed to let him know," he said.
Upper Manaia Rd resident Jen Evans said she hadn't even realised anything had happened until she tried to cook toast for her toddler son.
"I realised the power had gone out ... I looked out the window and saw a tractor on the wrong side of the road ... I thought it had just gone through the fence," she said.
For more articles from this region, go to Wairarapa Times-Age