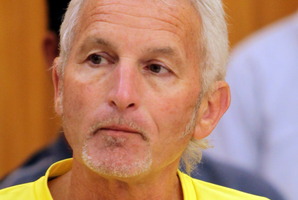 Wanganui mayoral candidate Michael Laws has gone to the police after he received a threatening letter and glass was strewn over the driveway of his home in the city.
The letter, delivered to his home address in St Johns Hill yesterday, is hand-written and tells Mr Laws to ``get out of public life ... before decent people deal to you''.
The letter was signed and included a phone number but Mr Laws said both appeared to be bogus.
He said the letter had been passed to Whanganui police.
In a statement, Mr Laws said he would not be threatened, blackmailed or bullied and and would "expose such unlawful attempts to sabotage the democratic process''.
"In the meantime [I] wish to send a very clear message that I will not be bullied by cowards who attack my family and my family home,'' he said.
Mr Laws, who was Wanganui's mayor from 2004-10, is no stranger to such threats.
In 2004 broken glass was spread over the lawn outside his home and three years later trees on the grass verge were vandalised and rocks thrown at the home, breaking windows.
In 2009 another rock was thrown through the window of the bedroom of one of his children and a year later his car was vandalised.
He also said his former partner Leonie Brookhammer had been subjected to at least 20 incidents of intimidation.
Mr Laws suspended his mayoral campaign last week after Ms Brookhammer suffered a serious stroke.
Mr Laws told the Wanganui Chronicle he had contacted Whanganui police this morning and would be taking in the letter to them later today.
He had given police what he described as a "pretty good description'' of who he believes is a prime suspect in this incident.
"This person isn't known to me at all but he has political leanings,'' Mr Laws said.
"This has happened before and it's the same crazies who're doing it. They are cowards who always act this way.''
Mr Laws said these people needed to front up to a political meeting to stand up and show their faces.
"If you don't like me then come to a political meeting and say so. But they're too cowardly to do that.''
For more articles from this region, go to Wanganui Chronicle