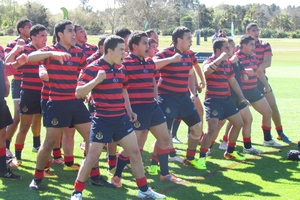 Stories making headlines around the regions include a school rugby league team soldiering on after being targeted by thieves.
The Rotorua Boys' High School rugby league team hasn't let the theft of thousands of dollars of equipment stop them making their presence felt on the field.
Police say they have uncovered cannabis seedlings, stolen property and more in their hunt for a wanted Mongrel Mob member profiled two months ago by Hawke's Bay Today.
Fire crews from Kaitaia, Ahipara and Mangonui have fought another deliberately-lit fire at the old timber mill in Kaitaia - the sixth this year.
A section of Papaiti Rd north of Wanganui could be closed for about a fortnight after overnight rain brought more earth down on to the roadway.
Tauranga parents should have reservations about the accuracy of schools' reporting on national standards, a local principal warns.
After years of directing tourists from the train station to the centre of town, Featherston resident Emily Greenberg decided signs were needed.
Finally Wanganui man Hector Shutte is proposing a return to the Civil Defence set-up of the 1970s which he says was great for the community.
Other stories making headlines around the regions include:
Naturist appeals conviction
Family want airstrip land back
Crash punch costs angry father $430
Asthmatics hit hospitals
Rotorua app designer gets game on iTunes
For more articles from this region, go to Rotorua Daily Post