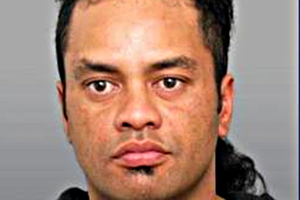 Police say they have uncovered cannabis seedlings, stolen property and more in their hunt for a wanted Mongrel Mob member profiled two months ago by Hawke's Bay Today.
Anzac Gemmell, who featured in Hawke's Bay Today in July, proved elusive after officers searched properties in Wairoa on Wednesday, however police said they uncovered thousands of cannabis seedlings, under-sized paua and stolen property.
They searched two Wairoa houses, looking for the patched Mob member, who has been on the run for over a year. He is wanted in relation to a kidnapping incident in Wairoa, on June 29 last year, when he and two other men allegedly hijacked a car and told the driver to take them to locations in Wairoa. Gemmell is alleged to have held a knife to the victim's neck while sitting in the front passenger's seat, and threatened to slit his throat.
Police said the victim escaped when he offered to buy alcohol for Gemmell and called police, but had since left Wairoa out of fear of Gemmell and his gang associates.
There was no sign of Gemmell during Wednesday's searches, but the police said their efforts were not in vain.
At one property, they allegedly found 2500 cannabis seedlings and another 150 seedlings at another gang house.
A stolen trailer was also recovered and they had seized a large amount of property on fines warrants, they said.
The searches also allegedly discovered 50 under-sized paua, and three dogs were removed because police said they were in poor condition and unregistered. The paua was referred to the Ministry of Fisheries and the dogs to the Wairoa District Council's dog-control unit.
Detective Sergeant Martin James said police would be putting more and more pressure on the local Mongrel Mob until Gemmell was found.
"We know he is hiding out somewhere and we will continue to pay special attention to the Mob here until he comes forth or is found. They can expect regular visits from us and we will be making sure we keep a very close eye on their activities. They will definitely be under the spotlight."
He said police were "pleasantly surprised" to find the cannabis seedlings.
"This is typical of what is going to happen when we're looking for people like Anzac, they [who] have been outstanding for some time. We are certainly going to be increasing and putting the pressure on now to locate him."
He said eight staff and a drug dog were used in the searches.
"The properties that we went to looking for Gemmell were Mob related addresses, that we have had information that he may have been there recently," he said. "I would encourage those that know his whereabouts to come forward before we come to them, because it can be very inconvenient for them, particularly when we find cannabis and stolen property at their addresses." Two men have been charged with cultivating cannabis and another has been charged with selling cannabis, with more arrests pending.
Police believe Gemmell, described as male Maori, 175cm tall and of medium to thin build with a scar around his right eye, has been hiding out in Wairoa or the greater Hawke's Bay area.
In July police told Hawke's Bay Today Gemmell would have access to weapons, was considered dangerous and should not be approached. He had previously been imprisoned in Hawke's Bay and had also appeared on an episode of Police 10-7 in March.
Anyone with information on the whereabouts of Gemmell are asked to contact Wairoa police on 06 838 8345 or anonymously on Crimestoppers.