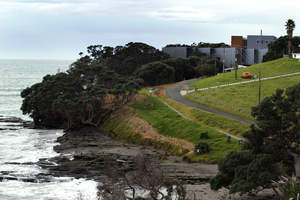 The drowning of a PhD student who was washed off rocks at Goat Island while collecting a water sample has prompted Auckland University to break with decades of research tradition.
For 44 years, students at the university's Leigh Marine Laboratory had made the daily trip down a 70m track to collect water samples off a rock platform using a thermometer, bucket and clipboard.
But the data is now collected electronically after Yue Gui, known as Alice, went missing from the platform in rough weather in June 2011. Her remains were found by divers a month later.
In his finding, released today, Coroner Brandt Shortland praised the university for breaking with tradition after the 30-year-old student's death.
He noted Auckland University's dean of science, Grant Guilford, had a respectful awareness of the research history and tradition of gathering the data off the rocks.
But he said the university had had shown courage by changing its protocols, which had put the safety of its people ahead of research tradition.
Ms Gui was within weeks of finishing her thesis on aquaculture when she went missing at Goat Island Marine Reserve on June 5, 2011.
She was awarded her doctorate posthumously.
Coroner Shortland found she most likely drowned after being washed off the rock platform where water samples were gathered.
The university had clear protocols in place to prevent such accidents, including abandoning sample collection in bad weather, but Ms Gui had not followed those protocols.
"In my view Alice's decision to collect samples that day was clearly an error of judgment on her part. She didn't observe the protocol.
"The sea conditions were such that it would have been totally unsafe for her to be in that vicinity during those particular conditions.''
Coroner Shortland said the tragedy had had an impact among Ms Gui's friends and colleagues within the close-knit community of the Leigh Marine Laboratory
He said he was satisfied with the steps the university had taken, and made no recommendations.
- APNZ