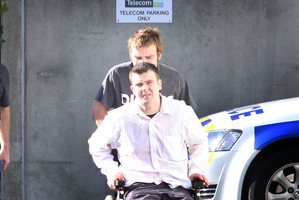 A 24-year-old Wanganui man who killed two motorcyclists in a crash near Normanby, Taranaki has been sentenced to four months' home detention.
Owen Parnell was also ordered to pay reparations of $28,000 when he appeared in the Hawera District Court this morning.
The head-on crash was one of the country's worst ever motorcycle accidents. Parnell was driving a van near Normanby, north of Hawera, on December 1 last year when he collided with a group of motorcyclists on a toy run, killing two and injuring four others, including one of his own passengers.
The crash happened at an intersection on a rural stretch of State Highway 3.
Parnell was charged with two counts of careless driving causing death and four counts of careless driving causing injury, and admitted the charges in July.
He was also seriously injured in the crash and required nine operations at Waikato Hospital. Parnell has been in a wheelchair since the accident and remains on ACC.
Waitara wood merchant Kelly Richard Reardon, 40, and Gordon Thomas McKay, 68, of Bell Block, New Plymouth, died after the horrific crash.
One of the dead men was wedged under the crashed van.
The bikers had been riding in small groups around Mt Taranaki on a sunny summer's day to deliver toys for under-privileged kids.
The reparations will be paid to the families of the dead motorcyclists and other injured victims.
For more articles from this region, go to Wanganui Chronicle