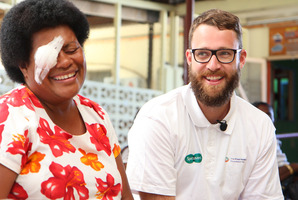 Former Black Cap captain Daniel Vettori is praising surgeons after seeing the impact cataract surgery is having in the Pacific.
As the international cricketer recuperates from achilles surgery, he joined volunteers at the Fred Hollows Foundation clinic in Ba, Fiji where about 100 islanders had operations this week to remove cataracts.
Vettori, a Specsavers ambassador, said he was impressed by the dedication of the health workers who work with villagers blinded by the degenerative eye disease.
"Once you're out here, you realise how important they are but they all seem so incredibly happy in their work in particularly trying situations."
He said staff at the four-day surgical clinic were restoring sight to around 30 people a day.
"For a lot of people you see the smile on their faces once the bandage has been removed. You know that something has gone very well and they're incredibly happy."
Vettori visited patient Vaseva Naloto's Ba home where about 20 family members, gathered for tea and coconut. Naloto had been unable to see out of her right eye for five years. "When the bandages were removed and for her to have a sense that she could see again was pretty special."
Vettori said he would cherish the experience and enjoyed contributing to people's lives.