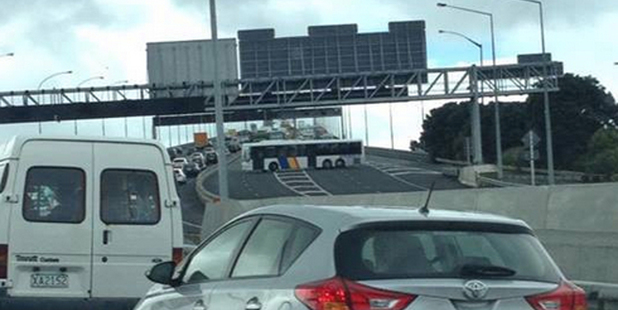 Terrified passengers jumped out of a bus on Auckland's harbour bridge after it turned around into oncoming traffic yesterday afternoon before being brought to a halt by a quick-witted truck driver.
Police are praising the driver, whose truck came head-to-head with the rogue bus while boxing it in to stop it travelling back in the wrong northbound direction up the bridge.
The bus driver, carrying about 15 passengers across the bridge to Auckland about 1pm on Ritchie Transport's Northern Express, was taken to hospital for medical checks.
His employer, Andrew Ritchie, described his actions in suddenly turning the bus around at the entrance to the Shelly Beach Rd off-ramp as "just so out of character".
Motorways police chief Inspector Mark Fergus said the incident needed more investigation but "at this stage it appears this was caused by a medical event".
"We're relieved no one was injured and we'd especially like to thank the driver of the truck and other motorists who assisted at the scene."
Glenfield publishing-house employee Amanda Preston said she and other passengers were bewildered and terrified to find themselves heading against the traffic, and started phoning and tweeting for help.
She was particularly concerned about two young men who got out of the vehicle after it had been brought to a stop and fled, luckily avoiding traffic in the bridge's other lanes.
"They were just so freaked out he was going to do something else."
Ms Preston, 22, said the driver suddenly stopped at the beginning of the off-ramp, and waited for a break in the traffic before swinging the vehicle right around and heading about 50m back up the bridge.
"He looked as if he didn't realise he was doing anything crazy and there was a guy standing next to him asking him just to stop the bus."
After the police arrived, an officer drove the vehicle to Victoria Park, where passengers were transferred to another bus.