Gaming trusts are helping to fund expensive developments for sports clubs in wealthy suburbs like Remuera paid for by gamblers in impoverished communities where poker machines are found in every corner pub.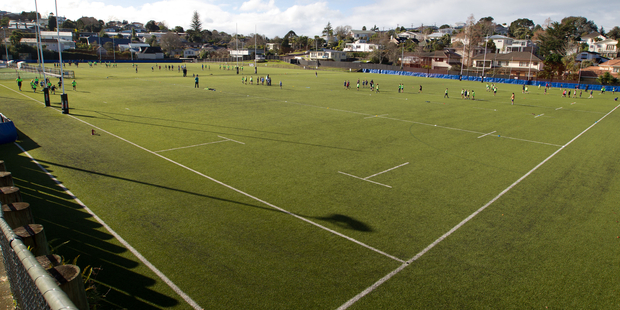 Alicia begins to sob as she recalls the moment she realised her life had to change. A Pacific Islander in her 40s, Alicia (not her real name) would spend up to 20 hours a week at the poker machines at her favourite bars, losing between $300 and $400.
It was too much for her partner of 14 years, the father of her two children. He left. Alicia played on.
The flashing lights and promises of instant reward so absorbed Alicia that her 14-year-old daughter Maia's increasingly erratic behaviour barely registered.
Maia began cutting herself. Alicia didn't even notice. Maia confronted her and showed her the scars. And the walls came tumbling down.
"She went into depression and was self-mutilating," says Alicia. "I didn't even know about it. I didn't take any notice whatsoever. I did not notice anything. Eventually she spoke to me and showed me what she had been doing to herself - cutting herself with a razor blade.
"That was my lowest point."
Alicia came across pokies when her sister took her to SkyCity casino. Before that she'd never gambled, never had any addiction issues.
After that first visit she gambled a lot, but she didn't have a problem. No way.
The lies she told herself became intertwined with the lies she told those around her.
"I'd make up so many excuses it got to the point where I didn't know which was the lie and which was the truth."
She'd lie about how she spent her time, and where the money went.
Not that she had any idea where the coins she poured into the clusters of poker machines that were never too far away from her Mangere home ended up. She had no concept that her money would help fund a vast network of trusts that, after venue operators and the Government had taken their cut, would return just over 37c of each of her dollars to the community.
All Alicia knew was that her money was gone, and her only real prospect of getting it back was to feed another coin into the slot.
Alicia's favourite haunt was the Pacific Bar & Restaurant at the Airport Garden Inn on Mangere's Tidal Rd. Money "invested" in the venue's 18 poker machines - the maximum number permissible - is distributed by the Bluesky Community Trust. The North Harbour Rugby Union, Huntly Squash Club and Templeton Golf Club all received a chunk of Alicia's money last year. The Waitemata Rodney Area Pony Club was also lucky enough to share in the near $300,000 windfall the trust distributed in the four months to July 2012.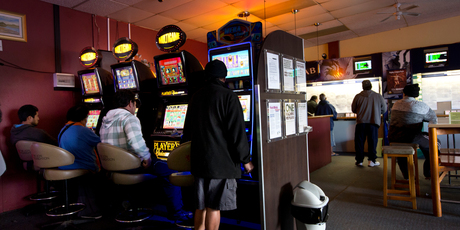 Bluesky wasn't the only trust Alicia helped to fund. There were layers to her self-deception. She denied she had a problem, but made sure she regularly rotated venues to avoid others developing suspicions.
"I didn't want to be seen as the local girl that goes there, the regular."
So around the houses she went - The Alamo and Strike! Manukau on Great South Rd, Shooters on Cavendish Drive, Hunters Inn in Papatoetoe. Grace's Place on the corner of Mangere Rd and Savill Drive was another regular haunt. The dilapidated pub is the corner shop of a strip that includes a superette, liquor store, fried chicken joint, bakery and dollar store. Shipping containers stacked six high in an adjacent lot dominate the bleak skyline.
It's even more grim inside the single-room establishment. At the bar there are two beer taps and a small fridge stocked mainly with bottles of Steinlager, but none of the patrons are drinking.
In an alcove sit two banks of pokies. All nine are attended, and two more people hover nearby awaiting their chance. An electronic display advises that the Pharaoh jackpot sits at $957.18, and will be struck somewhere between $800 and $1000. Coming soon, then.
The opposite side of the room houses the TAB, which has the full attention of the remaining eight patrons. Like the 11 transfixed by the pokies, they are all Polynesian.
Laminated A4 notices offering warnings and advice decorate the entrance to the pokie area. "Leave the plastic at home" is one sage message. There's also a funding grant application from the Lion Foundation, the trust that distributes the money raised by the pokies. Two smiling youngsters playing ukuleles adorn the cover. In the bottom right-hand corner sits the foundation's logo with the slogan "Here for Good".
It's 2.40pm on a Friday when the Herald visits Grace's Place. We have permission from the manager, but no one asks why we are taking photos and making notes. In fact, no one speaks a word in the time we are there. Their attention is elsewhere.
A heavy shower sweeps across Auckland as the Herald heads towards the College Rifles Sports Club. It's late June and the rain has been coming and going all day, and all month. It's the sort of weather that's killed off many a sports event, but there's no need to worry on this occasion. In 2009 the club installed synthetic turf on its two rugby fields, rendering cancellations a thing of the past.
Located a couple of hundred metres off Remuera Rd in a flood-prone valley, the playing surfaces at the historical club have traditionally been terrible.
'It was a s***hole," says club manager Derek Rope.
Synthetic turf has come a long way. Up close it looks and almost feels like real grass, with little black rubber balls and flakes mimicking dirt. The lush carpet cost the club $2 million, $500,000 of which came from gaming trusts.
Synthetic turf also covers the scrum practice area and the netball and tennis courts. There's a brand new pavilion, state-of-the-art gym and 32-bed accommodation block for touring sports teams.
The club's bad days are well and truly behind it, thanks in part to its success in accessing gaming trust money. Seven trusts have kicked in over $1 million to help fund the redevelopment projects, and there is more to come. The club has already secured $300,000 of trust money to put towards the final phase of its development, a swimming pool complex, and is hoping to raise that figure by another $200,000.


Given that just 23 of the country's 17,534 pokies are situated in Remuera, it's hardly a surprise that a club that began life in 1897 with a membership of military personnel drawn from Auckland's schools has been held up as the poster child for the dubious wealth redistribution that accompanies the gaming trust model.
"Why should poor people in Mangere be supplying first-class facilities in Remuera?" Maori Party MP Te Ururoa Flavell asked when he launched his ill-fated Gambling Harm Reduction Bill.
It's a fair question, and one Mr Rope doesn't duck. "People say it's a Remuera rich club - it's not," he says.
Only 25 per cent of the club's 5000 members across a sports portfolio that ranges from badminton to lacrosse are Remuera locals.
"We are supplying something to the community and that community is not Remuera, that community is the whole of Auckland," says Mr Rope.
The moral question of whether the club should receive funds contributed by the likes of Alicia isn't quite so easy to shrug off. Since 2008 the Lion Foundation has contributed $103,000 to College Rifles' collective coffers. Some of that money came from Alicia, and the people she sat alongside at Grace's Place.
"There are pros and cons with every damn thing," sighs Mr Rope. "I know where you are coming from with the guilt side of it, but I think you've got to take the positives out of the negative.
"If that money wasn't there we wouldn't be here. This club would be gone by now. That's the honest truth. We'd be gone, and this area would not have 5000 people playing sport. Ten years ago we had only 100 rugby players here. Now we have 800. Without being able to provide the facility, 700 kids wouldn't be playing rugby.
"We can't go on a crusade or anything like that. While [the money] is there, if we use it for the most positive for the wider community I have no problem. I'd have a problem if it was misused."
Inside the clubrooms 145 primary schoolboys are spending their holidays at a programme organised by the Twin Training Rugby Academy.
In teams of eight named after famous rugby provinces and countries, the kids pour out onto the fields. They're put through warm-up drills, before hurling themselves into a series of matches.
The positives Mr Rope talks about morph from an abstract concept to something tangible. They can be measured in excited faces, laughs, cries and frustrated high-pitched calls of "come on, pass it, mate".
Around half of the club's members are under 13.
"That is bloody heartwarming."
It may have been reborn with pokie money but the club doesn't plan to live off it forever.
"We know that funding is going to get harder and harder to access. We have a business plan in place so that when our funding dries up and capital projects can't be done any more we can survive. We want to leave a legacy for the community that can run without [trust money].
"That's the ultimate goal, to stand alone."
Alicia's goal is much the same. She's currently studying, and wants to become a counsellor so she can help people who have problems like hers. She hasn't gambled in over a year.
"I'm good now," she says. "The temptation is still there, but every time I get a temptation I call my counsellor. I have her on speed dial."
Alicia's sister still gambles, still plays the pokies. "I've tried to get her to stop but I can't really help her if she isn't willing to help herself. She has the same problem but she won't admit it."
The series
Yesterday: Hooked on the money - sport's dependence on gambling cash.
Today: Broken lives and rebuilt fields. A pokie dollar makes its way from Mangere East to Remuera.
Tomorrow: Moral jeopardy. The troubled ethics of doing good things with bad money.
Thursday: It wasn't always like this. Life before gambling revenue.
Friday: Where do we go from here? Can we break the cycle?