Benji Marshall, Sonny Bill Williams, Sam Tomkins — wooing the biggest sports stars to New Zealand is not just about persuading them of the benefits to their careers, but about persuading their partners and families to fall in love with their new hometown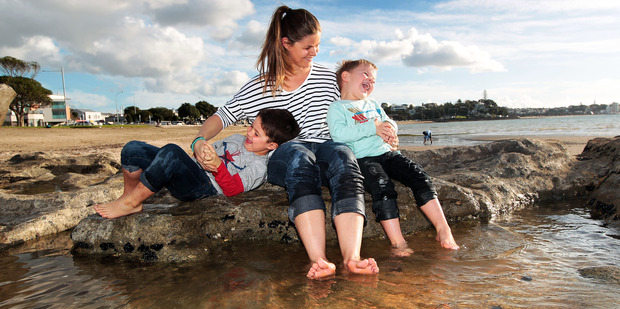 On fine days, families flock to the Auckland seaside to soak up the rays. The boardwalk along Tamaki Drive becomes a parade ground for mums, dads and their charges, heading to Mission Bay for a gelato or just meandering in the balmy sunlight, enjoying the play of light of the emerald sea.
One such day, Nathan and Kelly Friend were shown the sights of Auckland. Gold Coast Titans player Nathan was being wooed by the Warriors; he and wife Kelly had been flown over for a tiki tour of the city's hot-spots.
"We arrived at midnight and were taken to SkyCity for the night," says Kelly. "The next morning, Nathan was taken to a boys' breakfast to discuss football and I was taken to Takapuna Beach Cafe. I loved it and it's still my favourite place to eat."
After checking out the shops ("I found out there was Bonds stuff here, so that was a relief. Plus you have Witchery and Country Road so I knew I would be sorted for shopping!") they were driven east to check out areas where could potentially live.
As parents of two young boys, Axel (now 5) and Oliver (now 4) safety, outdoor living and good schools were essential.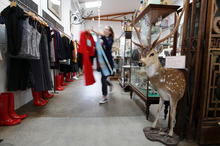 "The beach and playground at St Heliers were great. And we were shown the schools around the area and they all looked good. When I saw the families walking along the boardwalks by the sea, I thought 'I could live here'."
It's been nearly two years since the Warriors came knocking and Nathan signed a deal that would see him and his family move from the Gold Coast to Auckland. They live in Kohimarama - near the beach and 20 minutes' drive to Warriors HQ - and love it here. Indeed, they love it so much that Nathan has re-signed to the Warriors for next year.
Kelly has become a valued cheerleader for the Warriors and the city. "I've helped recruit two more Australian families here," she laughs. "Warriors lock Todd Lowrie moved here with his wife this year. And Andrew McFadden, who's the Warriors assistant coach, also moved here with his family."
When it comes to wooing sports stars to our part of the world, it's easy to think that it's all about the bottom line - money. But this isn't the whole story.
When a prospective player has a number of different teams to choose from, each offering generous financial packages, lifestyle opportunities can play a major role in their decisions.
Whether it be close proximity to the beach, great schools, or good community culture, making the leap across the ditch or the move up (or down) country is conditional on more than dollars. And the movers and shakers in our sporting codes have learned to be pretty savvy when selling our cities to potential players.

Dean Bell is seated in his office near Mt Smart Stadium. The walls of the small room are covered with white boards and an inspirational quote or two but, all-in-all, it's a working office without pretence or unnecessary embellishments.
Bell is a league luminary and the general manager of football for the Vodafone Warriors. His career included stints in Carlisle, Leeds and Wigan but he returned to New Zealand to take up the reins as the Warriors captain in 1995, leading the team on to the grounds for the inaugural game.
He understands only too well the challenge of upping sticks and moving to a new city or country. "Getting anyone to leave their home is difficult," he explains. "My children were
born in England and my wife is from there. So I know what it's like to move a family to the other side of the world."
But recruitment is a key part of his role and an aspect of this is "selling" Auckland city as a location to prospective players.
This, he says, can be difficult because many players only experience the city's less-attractive side when touring. "They come from airport through an industrial zone to their city hotel. Then they get taken to the game at Mt Smart, which is also in an industrial area."
This can lead to a slightly warped perception of the city. He tells an amusing story by way of illustration. "Recently a player (who I won't name) came to Auckland with his wife. We were having lunch at Mission Bay and the wife said 'I'm so surprised at how nice the city is. My friends said Auckland was all like Once Were Warriors'."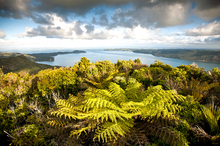 To help counter this negative opinion of the city, Bell's nephew, who also works at Warriors HQ, put together a video presentation that showcases the country, the city and the team culture. This is sent to player agents throughout the world.
It's a montage of bucolic pastures, bubbling streams, foodie havens, and pumping nightlife and paints an alluring picture of the country and the city.
Another way in which potential players are courted is via guided tours, similar to that on which Kelly and Nathan were taken.
"We show single guys around Ponsonby and the inner-city to show them where the nightlife, bars and eateries are located," says Bell. "And we take players with wives and families to the eastern suburbs, North Shore or around Pt Chevalier.
"It's incredibly important that the wives like the city and feel they can live here." And he laughs. "A happy wife is a happy life."
Sir John Kirwan employs similar tactics when recruiting for the Blues. A passionate Aucklander who has lived all over the world, he is keen to fly the flag for the Auckland lifestyle.
"I think that Auckland is the greatest city in the world," he says. "And I always stress to players how fortunate they are to live in a city where you can spend time on the beach or be a farmer or live in a central-city apartment."
The diversity of opportunities is considered by Kirwan to be one of the city's leading attractions and pitches to players are targeted around their particular lifestyle interests.
"I love the water, so I often take players down to the waterfront to see the harbour and have a meal down at the Viaduct or somewhere nearby."
Players from a farming background are made aware of the countryside to the north and south of the city, lovers of the natural world can visit the Waitakere Ranges. "I like to let potential players know that while there may be some sacrifices that have to be made, it's very easy to arrange your lifestyle to be the way you want."
SkyCity Breakers general manager Richard Clarke agrees with Kirwan's sentiment. He says the lifestyle opportunities awarded international players makes the North Shore (where the Breakers are located) a desirable place to live and play.
"The great variety of lifestyle options for the single players, those with partners and those with families there is something for everyone and somewhere for everyone to live."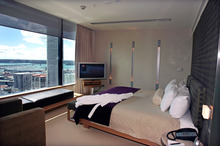 He, too, takes potential players on a tour of Auckland - the beaches, SkyCity, the city's restaurants - and says players, particularly those from America, enjoy the relative anonymity the city offers.
Aussie export Breaker Daryl Corletto and his netball star wife Julie have certainly been won over the North Shore life. In a Herald on Sunday story, Daryl said: "Living anywhere near the beach in Melbourne is just too expensive. But this is fantastic - we could certainly get used to it."

Not all players are 100 per cent sold on the big smoke. Taranaki rugby caption Kane Barrett found making the move to Auckland to play for the Blues a bit of a culture shock.
"I'm a rural man," he shares. "So moving to Auckland was something very different."
Brought up on a dairy farm that runs on to pristine surf beaches just south of New Plymouth, Auckland's waterfront wasn't all that exciting. "I'm not really into shopping or nightlife either," he says. "So I pretty much just concentrated on my rugby, which was good."
He does admit to some great days fishing on the Hauraki Gulf and says he loved working with JK as a coach. "He is really passionate about the game, which is inspiring."
Sometimes it's the culture of a sports team, rather than location of lifestyle, that makes it desirable to players. The Waikato-based Chiefs have an excellent record on the field and also when it comes to recruiting top players (Sonny Bill Williams is a prime example). High performance manager Chris Tindall says one the keys to their success is the positive word of mouth from Chief's players give to their mates.
"The success of the team is a reflection of what a positive place this is to be."
Tindall says while rugby is always the number one focus, engagement with the community is a great motivator. "For example, in the week leading up to the Crusaders home match, the players visited some children in Waikato Hospital. This was a huge motivator for them."
The Waikato community is very passionate about their rugby, and Tindall says that this feeds back strongly into the team's positive ethos. There are also many opportunities for exploring the natural attractions in the area. "We had a coast-to-coast challenge from Waihi to Raglan before the season began. It actually recreated the journey taken by early Maori who carried waka over the country. It was a great fitness opportunity and an inspiration for the Chiefs."

"It's just like Brisbane 20 years ago. And I mean that in a good way."
League legend and ex-Warriors captain Steve Price is an expat who decided to stay.
Courted by other Australian teams as well as UK franchises, his decision to move to the Warriors was a real coup in 2005. And while money was a factor, it was Auckland's relaxed atmosphere that clinched the deal for Steve and family.
"One of the most important things when choosing where to play was that my wife would be happy there. We had been living in Sydney while I played with the Bulldogs, which having been raised in the small town Toowoomba, was a bit of a culture shock."
His wife liked what she saw. "She was in Auckland being given a tour of the place and I remember her calling me and saying 'the people here are just like Australians. I could live here'!"
Price played for the Warriors from 2005 to 2009, garnering an impressive haul of individual honours and a New Zealand Order of Merit ("I thought someone was pulling my leg over that one. When I received notification in the post, I actually rang up Government House to make sure it was real," he laughs.)
The lifestyle afforded to him and his family in Auckland informed his decision to stay on.
"It's so relaxed. You can live in Central Auckland as we do and be anywhere in 20 minutes.
"People complain about the traffic, but it's nothing compared with Sydney. The harbour is beautiful, the beaches are beautiful. And there is a real sense of community."
Whatever players' reasons are for moving to Auckland or other parts of New Zealand, it seems our country works its magic on many. Back in Kohimarama, Kelly Friend is excited about the prospect of spending another year in the city.
"It's such a great place to raise kids. We are close to the beach and I take the kids to play outside, rain or shine. It's such a relaxing, easy place to live."
And given such positive reviews from players and their families, it seems inevitable more sports stars will decide to make New Zealand home.