Handler emotional at award for 'best dog ever' who took bullet for him in line of duty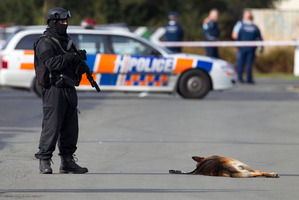 Senior Constable Bruce Lamb can still feel his beloved police dog Gage leaping over his head to take a bullet from a gunman.
Mr Lamb became emotional while paying tribute to his dog yesterday when Gage was posthumously awarded the UK's highest honour for animal bravery.
"Without him, I simply wouldn't be here," Mr Lamb told a gathering of his colleagues, where Gage's bravery and sacrifice was recognised with the PDSA Gold Medal, presented by Governor General Sir Jerry Mateparae.
At 11am on July 13, 2010 officers passing a house in the Christchurch suburb of Phillipstown noticed a strong smell of cannabis.
They went to the door and arrested a man there and called for back-up.
Mr Lamb and Gage arrived and went inside where they found Christopher Graeme Smith, 35, inside a locked bedroom.
Smith coughed to disguise cocking his rifle before Mr Lamb entered.
The gunman fired two shots, with one narrowly missing Mr Lamb's head, the other smashing into his jaw. As he fell, Mr Lamb called out to alert his colleagues.
Smith cocked his gun again and as he went to shoot Mr Lamb again, Gage's training kicked in and he jumped into the line of fire.
"I can still feel Gage going over me. Without a doubt, his actions on the day saved my life," Mr Lamb said.
Smith fired again and hit Constable Mitch Alatalo.
Mr Lamb dragged Gage, still on his lead, outside the house.
It wasn't until he was outside that he realised the dog was dead.
That's when he drove himself to hospital and radioed police comms: "Delta One to Comms ... I've got a gunshot wound to the head ... can you tell my boss that my dog is dead please."
Mr Lamb, 53, remembered only a flash of the gun and seeing Smith point it at his head before Gage jumped over him and took the second shot.
The 6-year-old German shepherd was photographed lying dead in the middle of Buccleugh St in an unforgettable image. Smith was jailed for 14 years for the attempted murder of a police dog handler, wounding of another officer and killing Gage.
Veteran dog handler Mr Lamb paid tribute to "a pretty exceptional police dog - the best I've ever had".
Mr Lamb described his life saviour as a strong-willed alpha dog who "thought he was entitled to an opinion".
"He loved me to bits, but it made it difficult around other people. He wouldn't let my wife or family near me if he was around.
Acting Police Commissioner Viv Rickard said the award acknowledged the 23 police dogs killed on duty, and the fact they're a "real important tool" for police.
Gage has joined 22 other animals worldwide awarded the medal.
He's the second New Zealand dog to join the ranks, after George, a jack russell terrier, also received the award posthumously in 2009 for saving five children when two pit bull terriers set upon them in Manaia, Taranaki.
Jan McLoughlin, director-general of PDSA, said Gage's act of bravery epitomised "the unique bond between man and dog, which should never be underestimated".
- APNZ