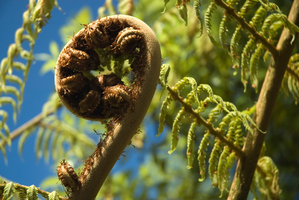 A third of New Zealand's conservation land, or 10 per cent of New Zealand, has weak protection from development despite some of it containing areas of high ecological value, the Parliamentary Commissioner for the Environment has revealed in a report released this morning.
Commissioner Jan Wright's investigation found that legal protection for the country's second largest category of conservation land was ill-defined and sent a signal to the private sector that it was "open for business".
She cited cases in which major projects had either gone ahead or been proposed on Department of Conservation "stewardship" land despite having no overall conservation benefit.
"Such land has the weakest legal protection of all categories of conservation land, despite some clearly being of high conservation value," Dr Wright said.
When DOC was formed in 1987, huge tracts of land which were believed to be of insignificant value were put under the department's stewardship until its conservation value could be determined.
Twenty-five years on, that land has never been assessed and its status remained ambiguous.
This signalled that it was of low conservation value, despite the fact that more than a quarter of conservation land which DOC has identified as having high biodiversity values was in the stewardship category.
Dr Wright said legislation and DOC policy gave little guidance on applications for commercial use of stewardship land, only stating that its "natural and historic resources" was to be protected.
The report said: "This would not matter if the conservation value of all land in this category was low, but that is not the case."
In comparison, legislation for national parks said their enjoyment had to be "on nature's terms" and explained why they should be protected.
The report recommended that DOC identified and reclassified the highest-value stewardship land.
The law also allowed areas of stewardship land to be swapped for areas of private land, provided that it "enhanced the conservation values" of the conservation estate. This "net conservation benefit" could come in the form of money, pest control or new land.
The report said the legal framework for land swaps was more suited to minor boundary disputes and not to protecting large tracts of potentially precious conservation land.
The commissioner questioned whether the swapping of an alpine basin in Canterbury - which was used to extend the Crystal Basin skifield - for a forested gully on Banks Peninsula actually led to a net gain in the value of the conservation estate.
The gully - which was given up by a private owner in exchange for the alpine basin - was already protected under local laws before the swap was made.
Dr Wright recommended that Minister of Conservation Nick Smith sought advice from the New Zealand Conservation Authority on the principles and processes behind land swaps.
She also said he should take direct responsibility for any future swaps because of the controversy recent cases had attracted.