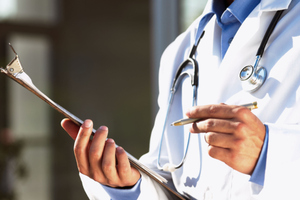 A doctor accused of videoing himself having sex with a former patient was asked to take his clothes off before a tribunal today to prove he was not the man in the video.
The doctor, who has interim name suppression, was cross-examined today before the Health Practitioners Disciplinary Tribunal.
He is accused of having a sexual relationship with a young woman patient, and paying her more than $40,000.
A video was recovered by a forensic computer expert from a USB stick belonging to the doctor showed the patient having sex with a man.
Under cross-examination, the doctor accepted the video was taken with his camera, and appeared to have been taken in his bedroom, but said he was not the man pictured.
"Do you accept that the video shows [complainant] having sex with a man who has the same skin colour as you?'' director of proceedings Aaron Martin said.
"That's not exactly true. The person in the video has lighter skin than me,'' the doctor said.
"So to summarise, if the man holding the camera in that video is not you, then another man used your bedroom, used your camera, and downloaded it to your USB stick,'' Mr Martin said.
"Yes,'' the doctor said.
The tribunal carried out a private physical exam of the doctor to determine whether he appeared to be the man in the video.
The doctor has admitted failing to maintain professional boundaries by entering a friendship with her after their doctor-patient relationship ended, but denied any sexual relationship.
He said she stayed at his apartment in Tasmania, after going there of her own volition to study nursing, where she had access to his camera and computer.
The doctor said he gave her about $40,000 over a period of time, saying she threatened to tell authorities they had been in a relationship.
He said the USB stick containing the video, which also contained confidential patient information, had been stolen by the complainant.
Asked by the tribunal why he didn't seek help from a professional colleague, he said he panicked, and wished in hindsight that he had.
"I did think of doing that but I panicked. I panicked at what was happening. When I look back I look back with great regret that I did not do that.''
The hearing continues.
- APNZ