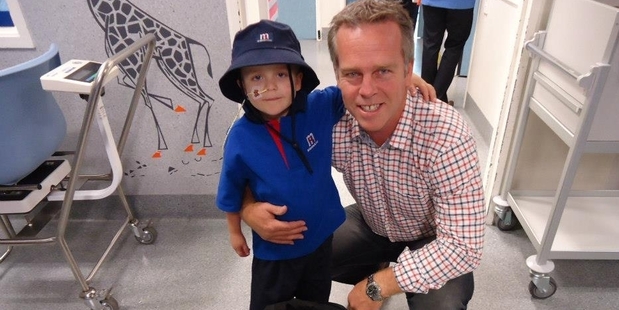 A father diagnosed with cancer as his 5-year-old son neared the end of his own cancer treatment lost his battle with the illness last night.
Chris Sutherland's wife, Kelly, announced his death on their son Lachie's TouchPauseEngage Facebook page, set up when the youngster was first diagnosed with stage 4 neuroblastoma cancer last year.
"It is with much sadness that I write to let you all know that Chris passed away this evening," she wrote.
The message was followed by Scottish poet Robert Burns' Epitaph On My Own Friend And My Father's Friend.
The post generated hundreds of messages of love and support for the Christchurch family, whose harrowing double blow has garnered support from thousands.
Mr Sutherland was diagnosed with advanced melanoma just last month, after his wife noticed a raised mole on his back.
"After 18 months of working tirelessly to get Lachie through his intensive treatment, to now be confronted with this new reality is unimaginable," Mrs Sutherland said at the time.
Her husband showed "the same tenacity and determination" as his son, who had offered incredible insight to support his father's battle, she said.
"It's a bizarre scenario to watch a 5-year-old comforting his father, and realising he's better equipped and qualified for the role than most of us."
The Sutherlands had been overwhelmed with support through TouchPauseEngage - named to reflect Lachie's love of rugby and created through the zero-fees fundraising service, givealittle.co.nz.
Family photographs and moving messages detailing their plight were frequently posted to keep family, friends and supporters up to date.
Donations had helped the family to travel to Australia for Lachie's treatment.