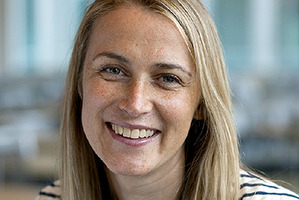 There's little that's flashy about the entrance to the Kiwi Landing Pad, tucked away down a sidestreet in San Francisco's crowded South of Market neighbourhood.
On the upper floor of the plain two-storey building, on a roomy open-plan floor, budding entrepreneurs hunker down behind laptop screens, whiteboards behind them scrawled with ideas and business strategies.
Kiwi tech star and Wildfire founder Victoria Ransom described New Zealand start-up companies as "scrappy" and the Kiwi Landing Pad's director, Catherine Robinson, believed the no-frills space reflected this.
"It is what it is. It's pretty gritty. It's simple. And it relies not on the walls but the innovation and the scrappiness of our companies."
The Kiwi Landing Pad was launched in 2011 by entrepreneurs John Holt and Sam Morgan as a springboard for New Zealand tech companies wanting to crack the United States market.
The base is set in the thick of the US tech industry, surrounded by a who's who of industry players: Twitter, Instagram, Dropbox and Zynga are among the closest neighbours.
As one of the team members of its first resident start-up, accounting software firm Xero, Ms Robinson knows what it's like to jump into a big pond.
Even firms with decades-long NZ corporate backgrounds were still start-ups as far as the US was concerned.
"You are starting here - and you have to adapt."
Companies accepted to use the space pay a comparatively modest fee and make the most of the networking opportunities it offers.
Ms Robinson said start-ups first needed to chisel out their point of difference in the market and then learn how to approach it.
In just two years, there have been many success stories, among them Xero, Mako Networks, Vend, Eventfinder and Biomatters.
Kiwi investor Phil McCaw, who made tens of millions in the sale of Trade Me, one of his first tech investments, said it was an exciting time for New Zealand tech start-ups.
"From our perspective, the quality of the start-ups that we see now is chalk and cheese compared to what was even five years ago."