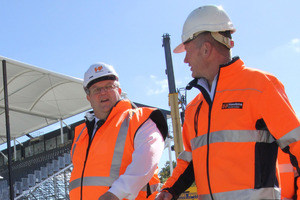 Earthquake Minister Gerry Brownlee has hinted he will not interfere with the rebuild of Christchurch's Town Hall.
Options for fixing the earthquake-damaged building include restoration and a full rebuild.
The preferred option from the city council project team is for a complete restoration at a cost of $127.5 million.
Insurance will cover only $68.9 million and the remainder will be funded by the council.
In November last year the city council voted for the town hall to be fixed despite the misgivings over the insurance shortfall by Mr Brownlee, the Earthquake Recovery Minister.
He has the final word on any repairs.
But his spokesman said yesterday that the city council had "made it clear" they wanted the Town Hall to be repaired and "the Crown isn't going to stand in its way".
In just over two weeks, city councillors will decide which option to pursue.
They will walk through the building on Tuesday before making their final decision.