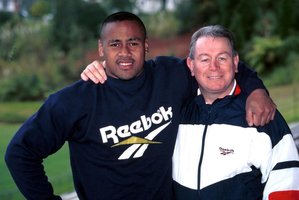 Jonah Lomu's former manager Phil Kingsley Jones has hit back at claims about how their relationship crumbled, saying he was "surprised and saddened" by revelations in Lomu's new book.
In an extract from Jonah: My Story, Lomu reveals how in 2003 Kingsley-Jones organised some quotes to run with a New Zealand Woman's Weekly article about the rugby player's new relationship with Fiona Taylor after his break-up with partner Teina Stace, and that this led to the player and manager splitting.
Kingsley Jones said he was "very disappointed" by this claim.
"After everything that we had achieved together, I am surprised and saddened that he has chosen to make it the story to sell his book on.
"All this for what happened in 2003 over a single magazine article? Clearly, he has his version of what happened, and I have my version in my book. I am standing by my version.
In a statement released this afternoon, Kingsly Jones said he always held and promoted Jonah in the highest esteem, as a player and a friend.
"I have no desire to get into a war of words with him or embarrass him.
"I wish that he hadn't attacked me in this way because it also pains my family and the people close to me. But, at the end of the day, I wish Jonah all the best and I hope and pray that he remains healthy."
In his book, Lomu said the player/manager relationship was "built on trust" with "no signatures on anything" but Kingsley Jones did not tell him about the payment he received for the story.
"He claims in his book that I did not contribute to the story so he never paid me any money. And he also claims that the cheque was paid to him personally, not Number 11 Management. I'm like, What? This was an exclusive story about Fiona and me getting together, and he knew all the details," says Lomu.
The giant winger says he asked Kingsley Jones on at least two occasions whether he had received payment and "he flat out said no".
When the Welshman finally admitted to getting paid, Lomu said that was the end of their friendship.
"What hurt so much was that we had always worked on the principle of being straight with each other and upfront in all our dealings," he said.
- nzherald.co.nz