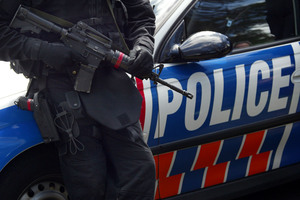 A "warning shot" was fired before a man was shot in the chest during an altercation in Christchurch's Hagley Park early yesterday morning, a court heard today.
Lance John Ross, 22, Ben Hack, 23, and Gina Thomas, 21, appeared in Christchurch District Court this morning over what a judge described as a "pretty explosive affair".
The shooting victim, 22-year-old Jarod John Hay, is in hospital with reportedly serious, but not life-threatening, injuries.
Police say the shooting happened on Harper Avenue, Hagley Park about 3.40am yesterday.
A large group of friends which included the three accused were in a Mitsubishi van owned by Hack and came up against another group, believed to have been in a Mercedes car.
The two groups - said to not be gang- or boy racer-related - had had run-ins earlier in the night where their van had received damage, police say.
Two shots were fired in the 3.40am incident, police said.
The trio of Ross, Hack, and Thomas were arrested late yesterday afternoon after police and the Armed Offenders Squad searched a property in Spreydon.
The van and a Mercedes car believed to have been used to take the injured man to hospital were also seized.
Ross - of Upper Riccarton, who has no convictions and is employed at a local tow-bar company - has been charged with carrying the rifle without lawful, proper, and sufficient purpose, carelessly discharging it in relation to the warning shot, and firing it with intent to do grievous bodily harm to Mr Hay.
His lawyer Phillip Allan told the court the gun had been obtained "for self-defence".
A warning shot was fired into the air before another shot was fired and hit the victim, the court heard, in what could lead to an argument of self-defence.
Ross was denied bail and was remanded in custody until September 2.
His two co-accused were granted bail, despite police opposition.
Pip Hall QC, acting for Thomas, indicated she would fight charges of unlawful possession of a firearm and actively suppressing evidence.
Judge Moran granted Thomas bail to an address at Hanmer Springs on the condition that she stays there, does not enter Christchurch, and does not contact any of her co-accused or others there on the night of the incident.
Her part in the "pretty explosive affair" was peripheral, Judge Moran said.
Likewise was the part played by Hack - a labourer at a city demolition firm who lives in Spreydon - who faces one charge of possessing the firearm. Hack was granted bail on the same condition, plus a 7pm to 7am curfew.
Supporters of Mr Hay hurled abuse and threats at Hack when he left court before they were asked by police to move on.
The police investigation is ongoing, and the gun is yet to be traced.
- APNZ