Auckland Council promised an average 2.9 per cent increase, but some homeowners are looking at double-digit rises on top of higher water bills and house insurance pumped up after the Christchurch earthquakes.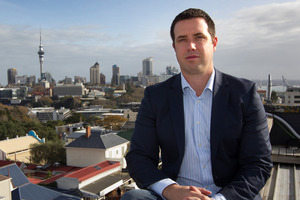 Aucklanders' rates bills have arrived in letterboxes and the figures have come as a shock to some homeowers who have seen rises of 10 per cent - despite the council promising an average increase of 2.9 per cent.
Residents have been left frustrated over confusing letters they say don't clearly explain how the council's new rating system works.
The costs come on top of house insurance bills - which have more than doubled for some homeowners under sweeping changes because of the Canterbury earthquakes - and higher water bills because of a new monthly billing system.
The Herald picked 28 pricey addresses of high-profile Aucklanders to see how those at the upper-end of the property market were affected.
The rates of 12 have gone up, while 16 saw a very slight decrease.
The $8.8 million mansion on Beach Rd in Castor Bay where New Zealand's Next Top Model and MasterChef were filmed, owned by internet mogul Seeby Woodhouse, saw the biggest percentage increase (10) - from $20,319 to $22,351 - along with North Shore MP Maggie Barry's home.
Ms Barry's new four-bedroom clifftop house in Stanley Pt - where she moved to this year after selling her Pt Chevalier home to be closer to her electorate - saw an increase from $4296 to $4726.
Others who saw increases above 9 per cent included liquor magnate Michael Erceg's widow Lynette for her $9 million Remuera home, Warehouse founder Sir Stephen Tindall for his $3 million Takapuna property, former All Black coach Sir Graham Henry for his $2.4 million Mission Bay house and Helen Clark for her $630,000 Mt Eden home.
News presenters also had a hard time, with TV3's Mike McRoberts seeing an increase above 9 per cent for his $1.3 million Westmere home along with colleague Hilary Barry for her $1.9 million Milford home and rival Television New Zealand newsreader Wendy Petrie for her $1.72 million Westmere home.
Auckland Mayor Len Brown was among the homeowners who have been granted a respite with their rates. His dropped for his $1.2 million Manukau home by $92.
New Zealand's richest man, Graeme Hart, saw a slight drop as well for his $22 million mansion, but still had one of the most expensive rates in the land at $68,474.
The rates for Kim Dotcom's rented $50m Coatesville lifestyle block weren't far behind at $50,571, down 0 .4 per cent.
Last year, the Auckland Council introduced a single rating system by merging the systems of the eight former councils.
The council promised an average rates rise of 2.9 per cent - down on earlier rises of 3.9 per cent and 3.6 per cent in the first term of the Super City - but 368,000 or 77.6 per cent of residential ratepayers are facing increases higher than this.
To come to the average, the council charged 94,371 households the maximum increase of 10 per cent and 79,327 households the maximum decrease of 2.5 per cent with all other homeowners paying something in between.
To smooth out some big increases and decreases, the Government allowed the council to phase in the changes over three years.
Hardest hit by the new rating system are many suburbs of the former Auckland City Council, including Remuera, Mt Eden and Mt Roskill, plus Howick.
Areas where rates have decreased include West Auckland, Papakura and Franklin.
Rates letters, the first of which were sent out on August 1, state the monetary sum of the individual homeowner's rates but not the percentage at which they have gone up or down, leaving them to calculate the figure themselves.
Lyn and Chris Poirier have just received the bill for their Western Springs home - their rates have gone up by 10 per cent.
"I feel the council had an obligation to remind transition ratepayers that the increase was up to 10 per cent in this letter," Mrs Poirier said.
"Stating the average at 2.9 per cent is an attempt by the council to make people think they are doing a great job at keeping rate increases low, in my opinion."
The Poiriers had been paying $2420 but it has been bumped up to $2662.
The previous year, they were paying $2200 - so that's a 21.6 per cent increase in two years.
Their rates have been boosted because of a large increase in value for their property, which they share with their 21-year-old daughter Monique.
The three-bedroom house was valued at $450,000 in 2006, but revalued last year at $820,000. Mrs Poirier said she challenged the new valuation and it was brought down to $760,000.
"We're taking on a really high burden of the rates, I feel. We're not doing anything, we're not improving the house. We just happen to live in a suburb that has fairly substantial increases in house value.
"I use no more sewerage than someone down the road from me in a cheaper house ... why is it that each residential property is not charged the same amount Auckland-wide? To me that would be the fairest and most equitable way.
"Len Brown's always going on about 'We want it to be fair'. Well, it's not the way it is at the moment.
"At what point does the council think that ratepayers can keep paying? There has to be a ceiling where we just can't afford it any longer."
They moved into their house 23 years ago when rates were about $500 including water.
Mrs Poirier, 53, said that on top of the couple's rates, their water bill was about $1000 a year.
"We fund the council, we are the funders, just like as taxpayers we run the country. They have to realise they just can't keep extorting money from us."
Deborah Acott, Auckland Council manager of rates, said the council was required by central government to set its rates using the capital values of a property. CVs are the value of the land plus buildings, based on the 2011 revaluation.
The transition process was outlined in newspaper advertisements, online banners, on websites, on flyers in libraries/service centres, press releases and in the council's monthly newsletter.
When asked why the rates bills did not include the percentage at which a person's rates were going up or down, Ms Acott said: "Where the customer receives a transition adjustment, there is full transparency of the calculation on the reverse of the rates assessment notice. This compares the previous year's rates with the current year's rates. Many ratepayers have received a decrease in rates."
"We try to keep the rates notice as simple as possible. We have limited room to show all the information, especially for the more complex rate accounts."
Mayoral candidate John Palino said Aucklanders were being charged too much in rates.
"Aucklanders were told that the Auckland Council would be more efficient than its eight-legged predecessor.
"But what we've seen is the opposite - rates have increased every year of the Auckland Council beyond the level of inflation and now there's more money spent on staff than under the previous eight councils combined.
"On the whole, Auckland residents now get less value for money than they did four years ago."
He said the "complex array" of committees, sub-committees, and other "duplicative decision-making processes" needed to be reduced and local boards be given greater responsibility for decision-making.
Real Estate Institute chief executive Helen O'Sullivan said people needed to factor in all the rates, insurance and water charges when doing their budgets.
Real estate agents would be advised to get up-to-date rates assessments when passing on information to potential purchasers, she said.
"So here's the house as it is today. But what are the costs going to be in the future, taking into account the new rates assessment, the insurance questions and ensuring you can get insurance on it at a price acceptable to you?"
David Whitburn, president of the Auckland Property Investors Association, said many of his members were happy with their rates bills as they had gone down for their rental properties in South and West Auckland.
"With their own home, they're getting hit. So the more affluent suburbs - the Epsoms, Parnells, Milfords, Takapunas - they are getting a belting and you're getting 10 per cent up quite often.
"But some of the areas like Massey, Otara, Manurewa, Papatoetoe, Henderson, Ranui - those areas are getting rates deductions."
But he said he preferred the former Auckland City Council and Waitakere council's rates calculation method where bills were based on the land valuation only, not the capital value.
"If some people wanted to put on granny flats to house their parents, troublesome teenagers, or indeed build swimming pools, that's their business ... so for those who were building $3 million [value], you only get charged on the land value. For those who had a dilapidated shack built in the 1920s, too bad, it's just the land value."
Mr Whitburn said his home in Parnell had gone up by 5 per cent while rental properties in Massey, Ranui and Mangere had gone down.
Internet mogul trashes rates jump
Seeby Woodhouse says he doesn't put out any more trash than anyone else, so wonders why his rates have gone up the highest amount possible.
The internet mogul has been hit with a 10 per cent increase - the maximum the Auckland Council can impose under its new rating system - for his $8.8 million mansion in Castor Bay.
He was paying $20,319 for the mansion where New Zealand's Next Top Model and MasterChef were filmed, but this has been bumped up to $22,351. "I'm surprised because I pay a lot anyway," Mr Woodhouse told the Herald.
"Obviously it's based on the value of the land. But at the end of the day, I don't put out any more trash than anyone else.
"I pay a huge amount, tens of thousands a year.
"I probably pay 20 times more than the normal person. So I'm surprised it's gone up."
He said it would have been helpful if the council had stated what the percentage increase was in its letter rather than him having to calculate it himself.
"I think the thing they could have done better is communicated to people, 'Hey, your rates have gone up 10 per cent, here's why'."
The stucco six-bedroom, six- bathroom home built in 1999 sits on a 3035sq m section and features a heated pool and sauna.
"Obviously the Auckland house market has been rocketing along but at the top end there's still not a recovery from the recession ...
"Other people with similar-priced houses seem to be selling them at the same price they were in 2007, pre-recession."
Tell us your rates story newsdesk@nzherald.co.nz.