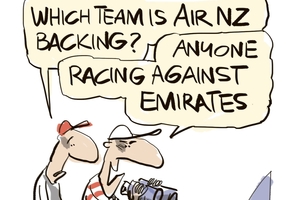 Air New Zealand is a supplier to New Zealand's America's Cup arch-rivals Oracle.
The airline is listed on the United States yachting syndicate's website as a supplier with 28 other companies, some of them international firms but most from America.
Emirates Team New Zealand are on course to race Oracle for the Auld Mug and support for a rival outfit by the airline - which is mainly taxpayer-owned - is puzzling an avid fan of New Zealand's challenge.
"It's strange to think that the national carrier of New Zealand is helping the competition, let alone the New Zealand Government holding a majority stake in the company," said supporter Kurt Bennett.
"I would've thought they would at least support their own."
The Government has put $36 million into Team NZ and hopes international exposure during the Cup will help Kiwi businesses and a win and the resulting hosting rights would be a big boost to the economy.
The Government also owns about 73 per cent of Air NZ, which because of exclusivity arrangements would be prevented from joining Emirates in backing the New Zealand challenge.
Mr Bennett said he understood that but did not think it was appropriate for a company such as Air NZ to support another country, let alone the direct competition to Team NZ.
"To me it's basically saying keep the Cup in San Francisco," he said.
"If Air New Zealand missed the boat on sponsoring Team NZ well they should just wait for the next sponsorship window."
Air NZ said it was not a sponsor of Oracle, just a supplier, but did not provide details of the nature of the deal. "It's worth noting that Emirates Team NZ and Oracle are both users of Air NZ services. Oracle and Emirates have people based in New Zealand and Air NZ is the only carrier to offer direct services between New Zealand and San Francisco," a spokeswoman said.
On its website, Air NZ says it considers sponsoring national and international events or organisations which give it the opportunity to:
Communicate its brand values and attributes to its target audience.
Increase awareness of New Zealand as a visitor destination and Air NZ as the airline of choice to travel here.
Generate revenue for Air NZ and stimulate demand for travel outside of peak periods.
Its portfolio "reflects our business and marketing objectives, with a focus on events or organisations that are distinctive to New Zealand".