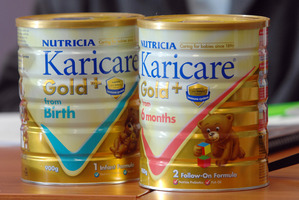 Two of the few known cases of botulism in New Zealand occurred in Rotorua during the 1980s.
Botulism, a rare and potentially fatal illness, has hit headlines this week after suspected contaminated infant milk products were recalled.
It is feared the contamination could lead to those consuming the products developing botulism.
The Rotorua Daily Post can confirm two sisters were diagnosed with botulism in February 1984 and were admitted to Rotorua Hospital's intensive care unit and ended up on life support following muscular paralysis.
On February 28, 1984, the Rotorua Daily Post's lead story gave details of two women, one who was believed to be in her mid to late 40s and the other in her late 50s.
They had been eating home-bottled mussels and watercress, and it was because fish was particularly vulnerable to botulism spores that the disease was suspected.
Blood samples and samples of the bottled mussels and watercress eaten by the pair were sent to the National Health Institute in Wellington and tests on mice confirmed the women had botulism.
A mouse was injected with the organism found in the women's blood and in the food samples and died.
It was reported in the Rotorua Daily Post then that it was believed to be the first outbreak of botulism recorded in New Zealand.
The medical officer of health of that time said the mussels had been collected from the beach at Maketu on Waitangi Day, and bottled, along with watercress collected from the Puarenga Stream in Rotorua the following day.
Anti-toxin was flown in from Wellington and given to the women.
They were seriously ill for some time with the anti-toxin taking a few days to take effect.
Their names were not released.
The two women did not die but it was not clear if they suffered any long-term effects.
Bay of Plenty medical officer of health Dr Phil Shoemack said as far as he was aware these were the only two cases of botulism in humans in New Zealand in the past 40 years.
"I'm not sure that there have been any other documented cases in New Zealand," he said.
The Ministry of Health was unable to confirm how many cases of botulism there had been in the past 40 years.
For more articles from this region, go to Rotorua Daily Post