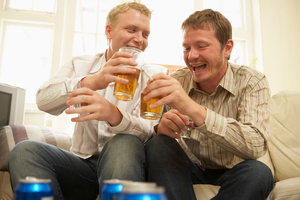 High prices charged by bars and clubs for alcohol could be why many drinkers choose to imbibe in the comfort of their own homes, a new survey has found.
The Roy Morgan poll found more drinkers drank in private spaces than in licensed venues such as pubs, nightclubs or bars.
Beer drinkers were more likely to drink in both places.
The survey of 11,336 people over the age of 18 found that in an average four-week period, 78 per cent would have consumed beer from an off-licence and 46 per cent would have drunk at a licensed venue.
Wine was most likely to be consumed in unlicensed spaces, with 83 per cent of red wine drinkers and 83 per cent of white wine drinkers having a tipple at home or somewhere else off-licence in an average four-week period.
Roy Morgan Research NZ general manager Pip Elliott said the convenience and comparatively low cost of drinking in an unlicensed space probably contributed to its popularity.
This pattern occurred across the six main alcohol types consumed by New Zealanders, with cider drinkers registering the least overlap between private and public consumption, and vodka having the lowest rate of consumption in both domains.
"Recently, there has been a lot of media commentary about the drinking habits of New Zealanders, expressing concern about the existence of a binge-drinking culture and questioning what can be done to address this," Ms Elliott said.
"Judging by the popularity of off-licence drinking, the cost of alcohol in licensed venues is a deterrent to many Kiwis. This suggests that raising the price of alcohol sold in liquor outlets might have some impact on private drinking, say, a government tax like that imposed on cigarettes.
"However, this would be useless without a strategic communications campaign to educate the public on the dangers of excessive drinking, targeting specific consumer profiles in a way that is meaningful to them," Ms Elliott said.
- APNZ