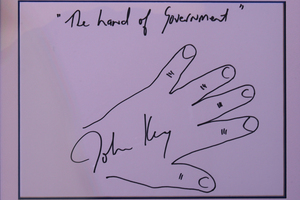 A hand-drawn artwork donated by the Prime Minister is among works being auctioned off to raise money for a Tauranga charity.
Mr Key's artwork is an outline of his hand titled The Hand of Government. The personally-signed drawling will be auctioned along with one by Cabinet Minister Simon Bridges of the Beehive with a head poking out saying "Simon says".
The good deed will raise money for St Peters House, a registered charity which provides a range of services to equip families and individuals with important life tools.
But it may provoke memories of the infamous 2002 "paintergate" scandal in which former Primer Minister Helen Clark signed a painting for a charity-auction that someone else had painted.
The matter was later referred to police who found evidence of a prima facie case of forgery, but determined it was not in the public interest to prosecute.
St Peters House director Andrew Tomlinson said the charity was relying on financial support from businesses and funding organisations. He said some people also offered donations, but this was the first time the organisation was holding a fundraiser.
Mr Tomlinson said St Peters House provided support programmes including counselling, debt management, budgeting, parenting and food parcels.
He said about 2000 people used those services each year. "This is the first time we have had any kind of fundraiser and the support we have had has been fantastic."
Mr Tomlinson said he had no idea of how much money they wanted to raise.
"We will be happy to raise as much as we can."
As part of the auction there are more than 60 pieces of artwork up for grabs, mostly donated by local artists.
"We have a very good team of volunteers who have been organising the event.
"They wrote to several high profile New Zealanders asking them to donate work and John Key and Simon Bridges both agreed."
Mr Tomlinson said there would be a range of different works up for grabs at the auction.
Light refreshments and live music will also be on offer at the event.
The auction will be held on August 9 at the St Peters Presbyterian church.
For more articles from this region, go to Bay of Plenty Times