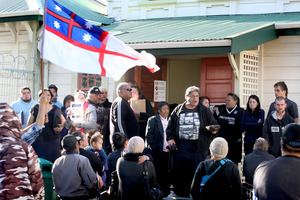 The woman whose supporters forced the Hawera District Court to temporarily close plead guilty to fraud charges this week.
Kiri Campbell, 32, admitted four charges of using a document for pecuniary advantage when she appeared at the New Plymouth District Court on Thursday. No plea was entered for a fifth charge.
The court heard Campbell used fraudulent cheques at five South Taranaki businesses in mid to late July, including at two vehicle dealerships.
Court documents show the transactions included $22,338 at RJ Eagar's, Stratford (furniture store); $3019.96 at Dimock's 100%, Stratford; $32,990 at Colton Motor Vehicle Co, Hawera; $14,990 at Egmont Autos, Hawera; and $481 at Pak `n Save Hawera.
Only the latter amount was outstanding and Judge Allan Roberts said he expected this to be paid before sentencing on October 3.
Police prosecutor Steve Hickey today confirmed to the Chronicle there were no further charges pending.
Campbell was snapped by a Chronicle photographer screaming as she was bundled into a waiting police car after the aborted hearing on Tuesday, her supporters having packed the public gallery and refused to remove a Maori sovereignty flag. The gallery was then cleared by police and court security, although no arrests were made, and the court later resumed.
At the time Campbell had a "lay representative'' to defend her but when she appeared on Thursday was represented by New Plymouth barrister Paul Keegan.
A Facebook page called Free Kiri Campbell has a "wanted'' poster for Judge Roberts and posted critical comments for refusing to hear the case in the Hawera court when the flag was in the gallery.
Another post said Campbell was not involved with the sovereignty movement and placed media "on notice'' for "continued participation in concealing the crimes against the people of this land''.
For more articles from this region, go to Wanganui Chronicle