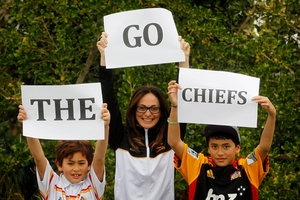 Tuihana Ohia made a promise to her two boys that she couldn't break.
So after trying unsuccessfully for 40 minutes to order Super Rugby final tickets online, the Hamilton mother slipped out of a work meeting and drove across the city to Waikato Stadium where an aunt was holding a place in a queue of hundreds.
"I just promised my kids that we would get tickets. We've actually raced from work and now we've got the tickets."
The 43-year-old let out a squeal of excitement when the six tickets for seats in the Wel Networks stand were placed in her hand.
"We're hardcore. We go and support every game."
The Te Wananga O Aotearoa wellness adviser said she was supposed to be in a meeting at work.
"I said I have to go and do something for half an hour, and then bribed my boss by telling him we'd get his tickets too."
Raised in Melbourne, she has lived in Hamilton for 13 years. Ms Ohia, her partner and two sons, Mauriora, 10, and Mackisack, 8, are big Chiefs fans.
"We don't have a lot of paraphernalia but we are really huge fans in our hearts. We have come to every game this season except one."
The plan for Saturday night includes a family dinner before the rugby, and afterwards they will race home for the replay.