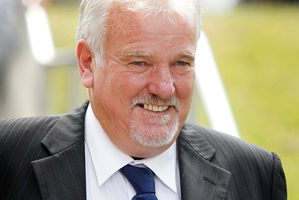 A former Hamilton principal convicted of misusing school funds has settled a civil case taken by police to recover more than $60,000 they say he spent on the school's credit card.
Martin Elliott settled the case through the High Court at Hamilton, but the amount he has agreed to pay has been suppressed by Justice Geoffrey Venning at the request of the parties.
The former principal of Fraser High School was convicted in January last year after pleading guilty to two charges of taking or obtaining a document for pecuniary advantage.
The two guilty pleas related to less than $10,000, including $1,03 of school funds Elliott spent on his beach house at Papamoa.
Elliott, then 59, was sentenced to 40 hours community service. No reparation was sought.
Waikato police served papers on Elliott two months later seeking the forfeiture of assets to the value of $61,296, which they say he spent on the high school's credit card.
In the criminal case police originally laid 64 charges against the former star principal relating to tens of thousands of dollars of taxpayer money.
Elliott, who now lives at Papamoa, admitted two charges and the rest were dropped.
The civil claim was lodged in the High Court by the Commissioner of Police under the Criminal Proceeds (Recovery) Act 2009.
Hamilton Asset Recovery Unit officer in charge Detective Senior Sergeant Craig Hamilton said when police could prove an individual had benefited from a crime, the commissioner could file proceedings.
Mr Hamilton said the civil claim was the result of further investigation by the unit whereby restraint and forfeiture was sought on Elliott's assets so the Crown could recover the "misappropriated funds".
He said police sought restraint and forfeiture of a residential property at Papamoa to recover the $61,296.
Mr Hamilton said although he was prevented by the court from releasing details of the settlement, police were pleased with the outcome.
"Although we can't discuss the Elliott matter the community can be reassured that the commissioner will take active steps to recover the community's monies when it has been misappropriated."
Any money recovered from Elliott would be returned to the Crown.
Elliott, a former Hamilton mayoral candidate and justice of the peace, was in charge of $10 million of public money at Fraser High School.
At his sentencing last February, defence lawyer Michael Reed, QC, said Elliott had suffered a spectacular fall from grace.
"This man has suffered above and beyond. His career is shattered. He is no longer a school principal.
"Financially he is in a very precarious position. He had to move out of the area because of the attention," Mr Reed said.
The Criminal Proceeds (Recovery) Act ensured people involved in crime did not profit from those activities.
Mr Hamilton said the Waikato's Asset Recovery Unit obtained forfeiture orders to the value of $7.6 million in the 2012/2013 financial year from 14 actions taken by the commissioner.