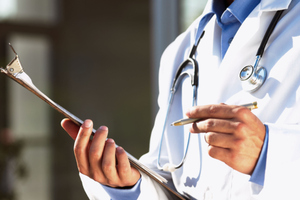 A GP who visited a patient at work, pulling his trousers down and asking her to perform a sex act on him, crossed boundaries and breached the fundamental contract that allows people to trust their doctors, the Health and Disability Commissioner says.
Commissioner Anthony Hill found that the GP, whose identifying particulars are suppressed, breached the Code of Health and Disability Services Consumers' Rights with his behaviour towards the woman who was being treated for depression.
The GP, referred to as Dr B, has been referred to the Director of Proceedings, who has yet to decide whether any proceedings should be taken.
The GP was accused of asking the woman, referred to as Ms A, to lean over a table while he made inappropriate sexual gestures during a consultation at a medical centre.
Later that day, he showed up to her workplace, where he undid his trousers and asker her to perform a sex act on him.
He lay down, offered to perform a sex act on her and told her they could have a relationship, Ms A told the commission.
While Dr B denied the incident at the woman's work, he admitted to the commission he made inappropriate sexual gestures while treating her.
Mr Hill said in his report that Dr B's behaviour and actions were designed to gratify his sexual desires and breached patient-doctor trust.
"They were sexually inappropriate and unprofessional."
"Any crossing of sexual boundaries between a patient and his or her doctor involves a breach of trust," Mr Hill stated.
"A doctor is required to have the patient's best interest at heart. That is the fundamental contract that allows patients to trust the doctor with intimate physical and psychological matters," he said.
The doctor had apologised to Ms A.
The Medical Council of New Zealand said sexual behaviour in a professional context was abusive and risked causing psychological damage to the patient.
According to their standards, a "zero-tolerance" position is taken on doctors who breach sexual boundaries with a current patient.
The New Zealand Medical Association's Code of Ethics also condemns any sexual relationship between doctors and patients, particularly where a patient is in a position of vulnerability.
As well as the referral to the Director of Proceedings, the Medical Council has implemented conditions on Dr B's scope of practice, which includes a requirement for him to have a chaperone when seeing female patients.
- APNZ