Pregnant women overwhelmed with confusing, but well-meant, dietary advice.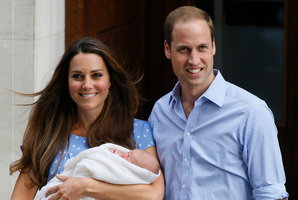 New Zealand mums-to-be are on substandard diets because the ever-expanding list of foods to avoid during pregnancy is too hard to navigate, say experts.
Thirty years ago, pregnant women were given very limited advice. Now, booklets are distributed warning women of all the food to avoid - everything from salad to salami, hummus and icecream.
Healthy Food Guide nutritionist Claire Turnbull said some women ended up restricting their diets too much because they eliminated all the risky food but did not know what to replace it with.
"It's important for people to realise there are things they can eat."
Pregnant women in NZ were not given specific nutrition guidelines until 1995. Before that, they got the same advice as the rest of the population - except for being told to consume liver for iron.
Massey University's Louise Brough agreed some of the modern advice was too confusing.
A Food Safety Authority table lists the fish women can eat safely, and how often. But rather than work out what was suitable, many just gave up, she said. "Some think 'it's too confusing. I just won't eat it', and that's worrying because fish is a good source of iodine, selenium and good oils."
University of Auckland lecturer Clare Wall said there were concerns that women were not eating enough fruit and vegetables because of restrictions on salads.
The Growing Up in NZ survey, which tracks new mothers, found only a quarter ate the recommended amounts of fruit and vegetables in pregnancy. Only a quarter ate enough bread and cereals and just over one-fifth ate two servings of meat, or another protein such as eggs, every day.
Concerns about food poisoning, particularly listeria, during pregnancy arose in the 1990s. That has led to women being told to avoid deli meat, cheese and even hummus. Turnbull said miscarriages because of them were very rare. "But you don't want to be the one person who eats cheese and gets listeria."
Obstetrician Martin Sowter said a lot of the list was expanding information, in response to increasingly varied diets. "Women who are pregnant are at greater risk of food-borne illness. They might not have been aware of that 40 years ago. They probably lit up a cigarette to celebrate a positive pregnancy test."
Brough said in the 1990s, it was recommended women avoid peanuts to reduce the incidence of asthma, eczema, hayfever and other allergies. That advice has since changed.
Victoria Rowe, whose second baby was born this month, said she put on no weight in the last two months of pregnancy because she was avoiding dairy, gluten, seafood, nuts and eggs.
Her older daughter has serious food allergies and an immunologist prescribed a prophylaxis programme. "I was threatened with formula feeding in the end ... but there was obviously good reason for it."
Dr Andrew Dickson, also of Massey, said society was too keen to put controls on women's bodies, and pregnancy was when they were especially susceptible to it. "Some things have an effect [on a foetus], like alcohol, nicotine or heroin, but whether you eat green-top or blue-top milk is utterly irrelevant."
Dickson has been campaigning for recognition of "pregnorexia", or eating disorders among pregnant women, which he said were becoming more common.
"Eating disorder networks see pregnant women quite regularly, even women who haven't suffered an eating disorder before. But they become so heavily influenced by the rhetoric of the weight-loss industry and the focus on 'acceptable weight gain during pregnancy' and think putting on weight is their fault."