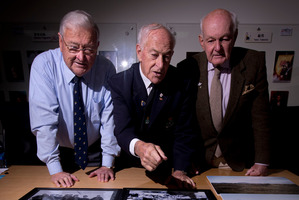 In New Zealand, a book titled The War That Never Ended: New Zealand Veterans Remember Korea was published early this year based on interviews with 12 Kiwi Korean War veterans, and photo exhibitions are being held in Auckland and Wellington featuring images of the Korean War taken by a New Zealand veteran. On Saturday, a special commemorative service will be held at the National War Memorial in Wellington.
More than 6000 New Zealand troops served in the Korean War, which was the second largest contribution per capita. As the Korean Ambassador to New Zealand, I take every opportunity to meet Kiwi veterans and convey my deepest gratitude for their sacrifice and courage. The veterans are very proud of what they did 60 years ago, which saved freedom and democracy in Korea and enabled Korea's miraculous transformation. They are touched by the high respect and a deep sense of gratitude the Korean Government and people hold for them.
New Zealand has also contributed to the economic and social development of Korea by providing development assistance. In the 1960s and 1970s, about 300 Korean officials, scholars and experts studied or trained in New Zealand under the Colombo Plan. After President Park Chung-hee's visit to New Zealand in 1968, a pilot dairy farm in Pyongtaek, the first of its kind in Korea, was established with New Zealand's assistance.
On the international stage, New Zealand, a larger player than its size, continues to support our efforts to maintain peace and stability on the Korean Peninsula. New Zealand and Korea maintain a close diplomatic partnership in regional and global forums as like-minded countries.
In parallel with Korea's rapid growth, our bilateral relations have expanded in all areas. Korea is one of the major economic partners for New Zealand as the fifth largest trading partner with a trade volume of $3 billion. Furthermore, there has been increasing co-operation in the areas of science and technology, defence industry, film and the Antarctic.
New Zealand enjoys an excellent national image as a peaceful and friendly country with a high quality of life, social and political stability, 100 per cent pure nature, cultural diversity, and an educational system of global standard. This is why New Zealand is one of the most popular destinations for Korean migrants, tourists, and students studying abroad.
Thanks to 30,000 ethnic Koreans living in New Zealand, 10,000 Korean students and 50,000 visitors from Korea annually, our people-to-people ties are flourishing. Recently the growing popularity of the Korean Wave, as demonstrated by PSY's Gangnam Style and K-pop fan club, has also brought our two peoples closer.
In short, Korea and New Zealand enjoy one of the best bilateral relationships. However, it still has not reached its full potential with one missing link and that is a free trade agreement. Both countries are committed to free market economic policies and are proponents of free trade. Moreover, the two economies are highly complementary. A free trade agreement would not only help unlock unrealised potential in trade and investment, but it will also have positive effects on overall bilateral relations.
A mutually beneficial FTA will strengthen partnership in food security, energy and resources development, and provide opportunities for Korean companies to participate in various infrastructure projects in New Zealand.
New Zealand and Korea are natural and ideal partners, who can depend upon each other when in need, as we share not only common interests but also values. We are complementary in many respects and our relationship is anchored by mutual understanding and trust. As we commemorate the 60th anniversary of the Korean War Armistice, it is time to refresh our long-standing friendship forged in blood and work together on a blueprint for our shared future.
This week Prime Minister John Key travels to Korea with 30 Korean War veterans to attend the commemorations of the 60th anniversary of the Korean War Armistice. During the visit the Prime Minister will hold talks with the new Korean President Park Geun-hye, an old friend of New Zealand. I am convinced that this visit will lay a solid foundation for further upgrading our strong ties.


Yongkyu Park is the Korean Ambassador to New Zealand.