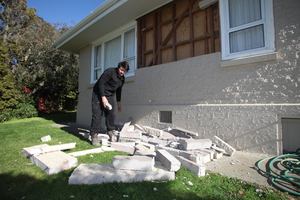 The small town of Seddon, the closest town to the weekend's earthquakes, is cleaning up after the damage wrought by the tremors.
Marie Flowerday, who owns several homes and buildings in the area said engineering checks had cleared her properties of any structural damage.
One of her flats, which is rented to seasonal workers from Kiribati has some exterior damage, an outside wall that crumbled.
"They'll take all the block work down and re-clad it," she said.
What was worse was that her tenants were spooked.
"They were all in their vans and they didn't want to get out of them," she said.
An initial text from the 'boys' read: "The house is falling down," Mrs Flowerday said.
The group spent the night together in the park opposite their flat after deciding they did not want to be inside.
Weld Street resident Jeanette Andreassend said televisions and computers in her home were all damaged.
The microwave ended up in the middle of the kitchen, said Mrs Andreassend, a Blenheim Countdown service administrator.
At the time of the quake, her partner was on the computer.
"He stood up from the computer to open the door and that's when she just shook. I was outside.
"I could see the wires and the poles swaying just before they popped."
By yesterday she had filled three black rubbish sacks with belongings that were broken during the quake.
"The house looked like we were about to move out of because it has nothing in it" she said.
The mother-of-three has lived in Sneddon for the past 20 years and said the Sunday quake was the most severe she'd ever felt.
Mike Uren, a volunteer with the local fire service, said checks of local homes had not turned up any serious damage.
"Like in all small communities, people are banding together.
"It's a very sobering situation but I think most people have come through it," he said.
- APNZ